Super Mario Odyssey Isn't As Big As You Think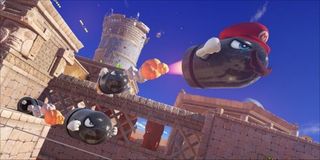 (Image credit: Nintendo)
When it comes to file compression, there doesn't appear to be a more efficient company in the games market capable of shrinking a file down to size than Nintendo. This little axiom rings true once more after the file size for Super Mario Odyssey recently became public knowledge and gamers began talking about how Super Mario Odyssey isn't as big as you might think.
Nintendo Enthusiast is reporting that Super Mario Odyssey on the Nintendo Switch is only 5.7GB. That's extremely tiny compared to games released these days. Putting that into perspective, Halo 2 from 2004 was 6.98GB when it released 13 years ago for the OG Xbox and on Windows Vista for PC. Nintendo managed to make the new 3D platformer 1.2GB smaller than the 13-year-old classic from Bungie and Microsoft.
As noted in the article, Nintendo has been utilizing these kind of high-compression techniques a lot, especially for the Nintendo Switch, given how tiny the system's on-board memory is. The console only comes with 32GB of hard drive space, so gamers have to think carefully about what they download digitally and developers have to think carefully about how to package games through Nintendo's eShop to match the efficiency of games like Super Mario Odyssey.
We just recently saw how games like NBA 2K18 are so large that the game couldn't fit on the console's native memory and needs an SD card to operate as a digital download or running from the cart. It's a real hassle, and some games are going to have a hard time running on the Switch if they're over a certain size. Some ways of cutting down on the size is pre-baking shadow maps into the level's texture mesh, or lowering the native texture resolution size. However, even in cases like NBA 2K18, that really didn't work out too well for the Switch edition and the game was still too big as a digital download for the Switch's hard drive.
Nintendo, however, takes a completely different approach to designing games, utilizing a lot of shortcuts and corners to bring down the size of games. We even saw this with the joint venture of Mario + Rabbids: Kingdom Battle where Ubisoft and Nintendo also worked together to bring down the size of the game to just 2.3GB as a digital download. The company is now doing the same thing with Super Mario Odyssey.
Games like Mario Kart 8: Deluxe are also pretty tiny, managing to clock in under 7GB. These are PSX and OG Xbox sizes from just over two generations ago. That's a good thing, by the way.
A lot of games have bloated up to absolutely massive sizes, requiring, on average, anywhere between 40GB and 60GB of space. GTA V for instance is 60GB on PC, while games like Forza Motorsport 7 with the 4K asset update is 100GB.
While Nintendo's competitors continue to push the boundary on hard drive space requirements, Nintendo has seemingly gone in the complete opposite direction by shrinking the space requirements for the Switch. In the case of Super Mario Odyssey, the game -- despite having multiple open-world sandboxes to explore and venture through and a plethora of costumes and characters to interact with -- is still just a fraction of the size of so many other games out there.
You can look for Super Mario Odyssey to launch exclusively on the Switch starting this October.
Staff Writer at CinemaBlend.
Your Daily Blend of Entertainment News
Thank you for signing up to CinemaBlend. You will receive a verification email shortly.
There was a problem. Please refresh the page and try again.