DayZ Is Finally Leaving Early Access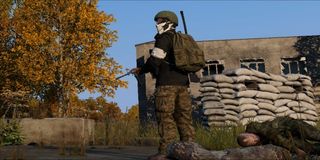 (Image credit: Bohemia Interactive)
Bohemia Interactive has been working on DayZ for ages. The game originally entered into Early Access as far back as December 2013. After an arduous development schedule and a change in leadership, the original emergent, zombie survival game is now finally prepping to graduate from Early Access sometime early next year.
Over on the DayZ blog there's a production schedule update regarding what the team is working on and how far along things are with finalizing the game. According to the report, gamers can expect DayZ to graduate from Early Access and into a more stable beta platform at some point in early 2018. According to lead producer, Eugen Harton, the game will not only hit beta and 1.0 in 2018, but will also arrive on consoles, too...
The thing is, the team still has a lot of work ahead of them in order to get the beta finished and eventually get 1.0 up out and for PC players.
For instance, in the post it's explained that there won't be any further releases or builds made available for Early Access gamers throughout 2017 leading into 2018. Everything else is being reserved for the 0.63 push, which won't arrive until early 2018. From there the team plans to add new character movements for ladder climbing, swimming, vaulting, throwing, leaning, falling, attacking, blocking, and performing combos. There are also going to be further implementations of diseases, an improved stamina system, stats, hit reactions, environmental exposure, injuries and unconsciousness.
In version 0.63, it will also require some modifications to the infected's AI, from stealth to improved pathfinding to advanced combat to better movement. The team will also continue to improve the standalone version of DayZ's UI and HUD, as well as adding in more weapon systems.
After stabilizing version 0.63 with new buildings, more players per instance, fewer networking issues, and more zombies per server, the team will then begin work on the release of 1.0.
According to the post, 0.63 will be a new checkpoint of sorts for DayZ on the road toward 1.0, and the team doesn't want to get bogged down in micromanaging sub-releases from 0.64 up to 1.0, instead there's going to be one big push after the release of 0.63 all the way to 1.0, and from 1.0 to the Xbox One.
It's a highly ambitious goal. However, the post explains that the team is trimming the fat around the feature-creep and removing anything from the list that creates unnecessary development time and resources. Instead the focus will be on building up the platform so that modding is made easier, stability is more consistent, and performance is more reliable. The team is promising that DayZ will truly exit from Early Access in 2018, but it's best not to hold your breath until the stable version of 0.63 is released.
Your Daily Blend of Entertainment News
Staff Writer at CinemaBlend.