How To Get Grim Fandango Remastered For Free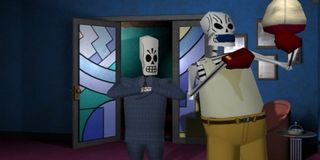 (Image credit: Double Fine Productions)
GOG.com is offering Double Fine Productions' Grim Fandango for free. You can pick up a digital copy of the game right now as part of the GOG.com holiday sale giveaway. The giveaway features the remastered version of the game, which came out back in early 2015.
If you visit the official GOG.com sales pag (opens in new tab)e you'll be greeted with the option to pick up a free copy of Grim Fandango Remastered. All you have to do is click on the "Get For Free" page, log into your GOG.com account, and add it to your library of DRM-free games.
The point-and-click adventure title is set in an alternate universe in the land of the dead. It's a detective dramedy that mimicked the old-school noir films of Hollywood's silver age of cinema.
It's a laid back game with easy-going puzzles and an unfolding plot themed around a conspiracy. The game was highly celebrated when it first released way back in 1998, which was the peak before the climatic decline in point-and-click titles heading into the next generation of gaming. Development costs were skyrocketing during that time due to the switch from 2D to 3D, and the widespread market dominance of home consoles, which were no longer just relegated to Sega versus Nintendo, but included the dominating presence of the Sony PlayStation.
A lot of gamers felt as if Grim Fandango was a highly under-appreciated title and that it deserved far more in sales than what it originally achieved. Nevertheless, Double Fine took the opportunity of utilizing today's gaming platforms to re-release the title for an entire generation of gamers who missed out on it before.
And now, GOG.com is giving gamers the opportunity to pick up Grim Fandango Remastered... for free!
So, even if you aren't into point-and-click games, you can still get the game for free and have fun with it, or maybe even get a friend or family member to play it.
In addition to offering Grim Fandango Remastered for free, GOG.com also has a collection of other games discounted on the service, including recent releases like Cuphead from Studio MDHR, which is available for 15% off the normal price, meaning you can grab a copy for yourself for only $16.99. Other recent games, like A Hat In Time, are marked down by 10% off for only $26.99, along with Hob and Hellblade: Senua's Sacrifice, both of which are discounted by 25% off.
CD Projekt Red's highly celebrated and top-selling game The Witcher 3 is marked down, with the GOTY Edition being slashed in price by 60% off the normal SRP, meaning you can get it for only $19.99 instead of $49.99.
There are also some fairly cool bundles for various games, including fighting game bundles, Man O'War bundles, Metal Slug bundles and much, much more.
Even if you aren't into building up an expansive library of games for your GOG.com account, you can still grab the free offering of Grim Fandango Remastered while the offer is still good. You'll only have until late Thursday to grab the game.
Staff Writer at CinemaBlend.
Your Daily Blend of Entertainment News
Thank you for signing up to CinemaBlend. You will receive a verification email shortly.
There was a problem. Please refresh the page and try again.