Grim Fandango, Dying Light Shamble Onto PlayStation This Week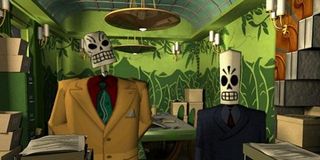 It's a big week for the undead on the PlayStation Network, as both Dying Light and Grim Fandango Remastered join a small selection of other new releases in the weekly lineup. Whether you're looking to visit the land of the dead or fight off a horde of shambling zombies, this week's content has got you covered.
While the 2014 Sony E3 press conference was full of a lot of surprises, one of the announcements that seemed to catch the most folks off guard was the fact that Grim Fandango would be getting an HD remake. A beloved Lucas Arts adventure game from the 90's, the game's original director, Tim Schafer, is back at the helm of the Remastered version of the game as his team at Double Fine add in some fresh commentary and other treats to go along with those enhanced graphics.
"In Grim Fandango Remastered, players are (re)introduced to Manny Calavera, a travel agent working at the Department of Death," explains Ryan Clements over on the PlayStation Blog. "Manny sells travel accommodations to souls on their way to eternal rest, until he gets tugged into a conspiracy that's a little more high stakes than just 'life or death.' Grim Fandango has been meticulously enhanced with a new lighting system, higher resolution assets, and even remastered audio to sweeten an already spectacular score. For old fans and newcomers alike, Grim Fandango is required playing in this curriculum we call video games."
Look for it on PS4 and Vita as a digital cross-buy title.
But Manny won't be the only undead star of this week's update, as the team behind the Dead Island series introduce Dying Light, a new take on the zombie apocalypse. Told from the first-person perspective, Dying Light mixes zombie slaying with crazy free-running maneuvers, making it something akin to Day of the Dead meets Mirror's Edge. Gather supplies, craft weapons and stay hidden when the sun goes down if you want to get out of this one alive.
A quartet of other games are hitting the PlayStation Network this week, including the latest offering in the Hyperdimension Neptunia series, Re;Birth2 Sisters Generation, bringing its insane RPG antics to the Vita.
Nihilumbra and Teslagrad will be on the Vita and PS4/PS3 respectively, offering their own unique takes on the puzzling adventure genre.
Finally, keep your eyes peeled for the first chapter of Life is Strange, a new and intriguing adventure game coming to the PS4 and PS3 full of choices, consequences and the ability to rewind time. Life is Strange will be out on Friday while everything else sticks to the usual schedule, popping up on the PlayStation Network Tuesday afternoon.
Staff Writer for CinemaBlend.
Your Daily Blend of Entertainment News
Thank you for signing up to CinemaBlend. You will receive a verification email shortly.
There was a problem. Please refresh the page and try again.