Xbox Mixer Service Launches Mobile App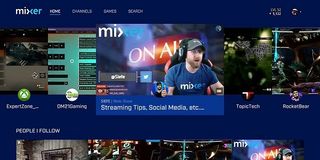 One of the few things separating Microsoft's Mixer streaming service from the competition has now been addressed, with an app now available across both iOS and Android devices.
If you've been looking to stay in the mix with Mixer while on the go, you now have the ability to do exactly that thanks to the freshly launched app. We haven't been able to take the service on a mobile spin ourselves but, so far, reactions seem to be pretty positive.
As noted by Gamespot, many of Mixer's best features are mirrored in the app, making it a great way to watch streams on the go, keep up with your favorite broadcasters or interact with the community.
While the Mixer app has been in a testing phase for quite some time, it's nice to see Microsoft get the final product out the door in time for the holidays. Don't feel like joining political discussions while visiting the family? Simply tune into a random Overwatch match and get ignore the buzz around you. Need to get away from annoying cousins? Find a safe corner of grandma's house and listen to your favorite streamer talk about the latest DLC for Destiny 2. Or better yet, if you find Wolfenstein II on sale for cheap and you want to know if it's worth picking up, just tune in for some quick broadcasts and see what the gameplay has to offer.
On top of the obvious streaming functionality, the Mixer app lets you do things like select push notifications specific to streamers, and you can even do a tap and hold to check out previews before diving into a full broadcast. The original post touts better navigation tools, too.
No streaming app would be complete without recommendations based on your viewing habits and a list of highlighted streams, and you can even set filters to make sure those lists don't include games you have no interest in.
The Mixer app includes integrated social features for interacting with streamers or the community, as well as the ability to swap between chat and audio options. On the whole, it sounds like a pretty robust mobile offerings.
Microsoft is making a big push into the streaming space, trying to go toe-to-toe with the likes of Twitch and YouTube. The service is reportedly a smooth experience, and now that the app is available, there aren't a heck of a lot of things the competition offers that Mixer doesn't as well. As an added bonus, Microsoft is making sure it's in front of a big audience by making the service standard on both the PC and Xbox One front.
If you get a chance to take the Mixer app for a spin this weekend, be sure to circle back and let us know what you think in the comments below.
Your Daily Blend of Entertainment News
Staff Writer for CinemaBlend.