GTA 5's New Update Is Perfect For Christmas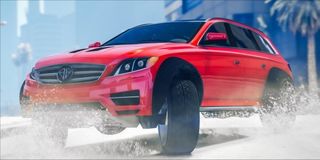 (Image credit: Rockstar Games)
Rockstar Games decided to make the holidays special, and in particular make Christmas a festive time for GTA Online players. The latest update for the game includes a perfectly suitable motif that many gamers will find suiting for the mood of causing carnage and chaos within the not-so-confined space of San Andreas.
According to Gamespot, the update features a new snow-filled coating across the streets and ground, giving GTA Online a much-apropos visual look that fits in well with the Christmas spirit. The update went live recently for all three major platforms, including the PC version, the Xbox One version, and the PlayStation 4 version.
The snow isn't just there for looks, though. You can actually pick up the snowballs and throw them at your fellow players, creating some intense sandbox snowball fights in the game. Heck, you can also throw the snowballs at NPCs, too.
Aesthetics weren't the only things that Rockstar modified with the game, there was also a new gift being rolled out for gamers for anyone who logs on Christmas Day, receiving a free Albany Hermes Muscle Car for GTA Online users. The vehicle comes with five free liveries, too.
Free Krampus masks have also been included in the update, allowing gamers to run around and spread a bit of terror and fear instead of cheer and goodwill. If you don't receive the Christmas-themed goods during the holiday events, you can also manually purchase them from the in-game shops during the holiday season.
A new Benefactor Streiter was also added to the game, which is a 4x4 SUV that is sold exclusively in-game at the Southern San Andreas Super Autos shop. A special Premium Stunt Race via H200 has also been included, along with a Time Trial at the Sawmaill. These updates will be available for those to enjoy on Christmas Day where special bonuses will be handled out.
So what sort of bonuses can you look forward to in GTA Online? Well, according to the report you can look for triple the RP rewards if you manage to participate in the Premium Races for the holiday events, and if you manage to place in the top three finish spots you'll gain even more special bonus GTA$ rewards.
They don't say exactly how long these special bonuses will be available for or how long this Christmas-themed event will last, but typically these sort of seasonal events are only available for a week or two, or just through to new year's day.
GTA V originally came out way back in 2013 for the Xbox 360 and PS3. A year later, after selling millions of copies of the game, Rockstar and Take-Two then re-released the game for Xbox One and PS4. A year after that the company re-released the game again for PC gamers. It's been going strong ever since and Take-Two has been getting by on the game's Shark Cards. GTA Online, meanwhile, has been receiving some small DLC updates and new missions along with the season holiday updates, like the current Christmas event that's currently going on right now.
Your Daily Blend of Entertainment News
Staff Writer at CinemaBlend.