Pokemon Go Is Rotating Its Regional Pokemon, Get The Details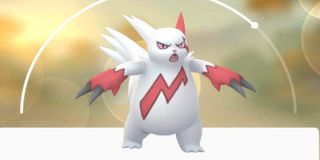 (Image credit: Niantic Labs)
One of the big selling points of Pokemon Go is that it has specialty Pokemon that you can acquire only under certain conditions. This has forced a lot of players to have to go out of their way in order to find those Pokemon or meet those conditions to acquire them. Well, Niantic is changing things around by introducing new rotations for regional Pokemon.
According to Gamespot, the introduction of the Generation 3 Pokemon from the Gameboy Advance era of Pokemon Ruby and Pokemon Sapphire into Pokemon Go late last year has undergone a minor tweak. Niantic Labs has decided to add rotations to rare regional Pokemon in the game, so now if you don't live in a certain region you'll still be able to get your hands on certain Pokemon.
Some of the Pokemon now available outside of their original designated regions include Zangoose and Seviper. Generation 3 Pokemon that were previously exclusive to specific regions. Zangoose was restricted to North and South America, while Seviper was only located in Europe and Asia. Now it's possible to pick up either Pokemon from the opposite regions, with Seviper now being located in North and South America, while Zangoose is now available for a time in Europe and Asia.
As noted in the article, Niantic has been mum about whether or not these changes are limited time swaps or if these will be permanent changes.
Many gamers have been taking note that some of these rare Pokemon seem to be popping up in different places in Pokemon Go compared to where they used to be located, such as Relicanth, which was previously only located in Fiji and New Zealand. Later on, gamers began to discover that Relicanth popped up in New Caledonia and Vanuatu and other Pacific Islands.
The Gamespot article notes that some people suspect that the swaps began as part of the new year update, and that we could likely see other rare Pokemon swapping locations as well in the near future. Some believe that the swapping was implemented during the Christmas event that took place as some of the additional Generation 3 Pokemon began rolling out, which included the Legendary Pokemon, Groudon.
Groudon will continue to be made available for gamers leading up to January 15th. Gamers in all regions will be able to capture the Legendary Pokemon by hitting up their Gyms in Pokemon Go and joining the raiding parties where multiple players will be required to take down the Legendary boss monster.
A lot of players may have missed out on the regional swaps initially because Niantic has been adding a lot of new content to the game lately, including some new Gen 3 Pokemon such as Milotic, Sharpedo, and Wailord. The developers also added all new AR systems to the game, for enhanced immersion during the augmented reality battle sequences, along with an all new weather system that changes what types of Pokemon you encounter.
Now players will also have the opportunity to capture some Pokemon that were previously just out of region's reach in Pokemon Go, but there's no telling how long it will last.
Your Daily Blend of Entertainment News
Staff Writer at CinemaBlend.