New Joy-Con Colors Are Coming To America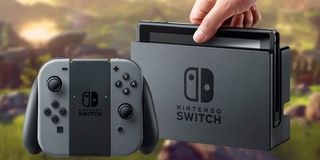 It's almost been a year since the Nintendo Switch launched around the world, but new accessories coming officially from Nintendo have been rather limited. Well, that is until now. The company announced that those of you living in America will be able to get your hands on some brand new neon-colored Joy-Cons.
The news comes courtesy of a post via the official Nintendo of America Twitter account, which revealed recently that you'll be able to play your favorite games with a brand new collection of neon pink and neon green Joy-Con controllers.
The left Joy-Con features a neon pink livery over the case with a black analog stick and black buttons. The right Joy-Con is doused in a green livery, with a black analog stick and black face buttons with green lettering instead of the traditional white lettering. The wrist straps stay black, so if you were hoping that they would get a color splash, too, sadly they won't. This is likely so that if you plan on mixing and matching wrist-straps with different colored Joy-Con controllers the colors won't be a major put-off with the straps being green or pink or yellow and the controllers themselves being opposing colors. Nintendo opted to maintain some form of consistency with the design of the color palettes for the Nintendo Switch accessories.
The neon colored Joy-Cons will join a series of other Joy-Con variations now available in the Americas, including the dual red Joy-Con controllers, and the previously released yellow Joy-Con controllers that came out back in the summer of 2017. The yellow Joy-Cons ended up selling out rather quickly, so I don't doubt that the neon colored controllers themed after the color scheme in Nintendo's own third-person shooter Splatoon 2, will also sell out quickly.
Many fans have been awaiting the arrival of the new multi-colored controller options, given that over in Japan you have the option of customizing what Joy-Cons come with your Nintendo Switch. You can mix and match the different color schemes based on what best suits your color-oriented sensibilities.
Some gamers are hoping that the Taiko No Tatsujin Joy-Con set will also arrive Stateside for Nintendo Switch owners. These specially made Joy-Cons are designed for Bandai Namco's upcoming music-rhythm game, Taiko No Tatsujin. The Joy-Cons have a decidedly different kind of design, with the left Joy-Con being red and the right Joy-Con being blue. While it might seem like they're simply inverted colors from the red and blue scheme for the current Nintendo Switch, they also have swapped face button colors, with the digital pad being blue and the face buttons being orange. The wrist-straps are also a light gray instead of the typical black.
Of course, neither Nintendo nor Bandai Namco have addressed whether or not we'll see those specially designed Joy-Cons make their way into North or South America, but gamers can look forward to getting their hands on the neon green and neon pink Joy-Cons for the Nintendo Switch at the end of January.
Your Daily Blend of Entertainment News
Staff Writer at CinemaBlend.