Joy-Con Adapter Makes The Nintendo Switch A Lot More Accessible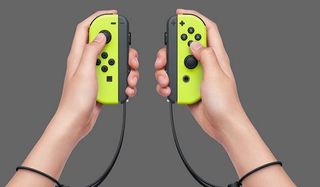 The Nintendo Switch's Joy-Con controllers are already pretty versatile, but that doesn't mean they can't be further tweaked to make gaming possible for an even wider audience. One creative designer has actually rigged up two attachments that make it so you can control both Joy-Cons with a single hand.
Over on Twitter, the folks at AbleGamers Charity recently showed off some images of a pair of Joy-Con peripherals they've been 3D-printing for gamers only able to play with one hand. They were actually designed by a guy named Julio Vazquez, who said they were created to help a friend.
Vazquez's friend can only game with one hand, and they were apparently really excited to try out The Legend of Zelda: Breath of the Wild. But while the Joy-Con controllers can be used in several different ways, there isn't really an easy way to bring the two sides close enough together for a gamer to utilize with a single hand. Vazquez, a mechatronics engineer, took the challenge head-on and created two devices. The first brings the Joy-Con controllers together at a right angle, making it possible to hold both steady in a single hand. The second one holds the two halves of the Joy-Con side-by-side, with an extra arm attached for controlling shoulder buttons.
Here's a look at the peripherals AbleGamer posted.
You can't see it in these images, but the side-by-side design actually has some really nice etching on the back panel themed after Breath of the Wild. This obviously isn't the most ideal way to use the Joy-Cons, but we're excited to see creative designers thinking outside the box so that their fellow gamers can enjoy more games in non-traditional ways.
Vazquez posted his designs and schematics to Thingiverse, where they are available free of charge for folks to use. If you've got a fancy 3D printer, you can simply download the needed info and get to printing a peripheral of your own. If not, then check online for nearby community workshops. As is the case with the AbleGamers post, they went to a local shop and used the available equipment to print off some snazzy peripherals of their own.
The Nintendo Switch is shaping up to be an extremely accessible console. Its design alone already makes it more user-friendly than a standard controller for some folks. Then we've got Nintendo adding helpful features to some of their games, like the auto-drive functionality in Mario Kart 8 Deluxe Edition. Throw in these handy peripherals and you've got yourself a pretty inclusive gaming machine.
Your Daily Blend of Entertainment News
Staff Writer for CinemaBlend.