Why The Last Of Us' Director Left The Studio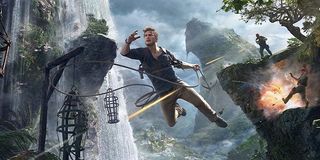 The games industry can be a tough one to live and work in, even for veteran developers. After helping guide both The Last of Us and Uncharted 4 out the door at Naughty Dog, director Bruce Straley announced he would be leaving the company. With some breathing room following that decision, he's finally opened up about what made him decide to take a break.
This news comes to us from Kotaku, who recently had a chat with Straley on their Splitscreen podcast. According to the former member of Naughty Dog, his departure from the studio was a pretty common occurrence in the industry: Burnout.
As Straley explained, he and partner Neil Druckmann had four years to get The Last of Us out the door at Naughty Dog. They were given the green light on the game following the huge early success of the original Uncharted trilogy. They were also given plenty of time to actually work on the game because Naughty Dog didn't announce it too early and, with nobody knowing it was even coming, there was no pressure to ship at a specific time.
Then The Last of Us dropped and floored fans and critics alike. Next thing you know, the duo has been given the reigns of Uncharted 4, along with a huge amount of pressure. As Straley explained, they only had two years to bring Uncharted 4 to the PlayStation 4, a huge task considering the fact it was a new console and an absolutely massive game to boot. Straley also noted that, with all of that on his plate, his big fear was making sure that the game turned out great. Naughty Dog has made a reputation for quality over the past decade, something he didn't want to tarnish with the studio's PS4 debut.
Once Uncharted 4 shipped and folks were happy with the outcome, Straley announced he would be leaving Naughty Dog. He was careful to explain in his recent interview that it had nothing to do with the company or the team so much as the fact that he had just survived a six-year gauntlet in terms of game development. He was, simply put, burned out.
His above quote gets at the heart of the matter. He explained that The Last of Us was a passion project, something he looked forward to despite the demands of the job. Uncharted 4, though, lacked that personal motivation; something he seems to feel was the case for many folks on staff.
Now that The Last of Us II is nearing completion, Straley's account has us thinking the next game from Naughty Dog will likely be something totally new, something everyone can find a newfound passion in creating.
Staff Writer for CinemaBlend.
Your Daily Blend of Entertainment News
Thank you for signing up to CinemaBlend. You will receive a verification email shortly.
There was a problem. Please refresh the page and try again.