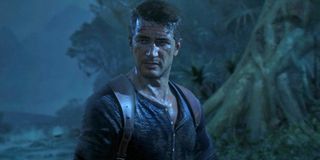 Uncharted 4: A Thief's End, arguably the biggest PS4 game expected in 2015, won't be out this year after all. Developer Naughty Dog announced a delay to the action-adventure game this morning.
"We've made the difficult choice of pushing the game's release date," said directors Bruce Straley and Neil Druckmann in a joint statement published on PlayStation.Blog. "Giving us a few extra months will make certain that Uncharted 4: A Thief's End not only meets the team's high standards but the high standards that gamers have come to expect from a Naughty Dog title."
"Thank you for your patience – we know the extra wait will be excruciating, but you'll see it will be worth it as we reveal more about Uncharted 4 over the next year. The team at Naughty Dog will be heads down working through 2015 making sure that Nathan Drake's story gets the closure it deserves. Come Spring 2016, you and Nate are in for one thrilling, emotional ride."
Uncharted 4 was first announced at the PS4's launch event in late 2013. The initial teaser trailer hinted that the game would take us to Madagascar. The first gameplay trailer, aired at E3 2014, promised a 2015 release.
Since that first reveal, Naughty Dog says, "more of the game and story have come together, and it's become clear to us that this game is much more ambitious than we originally envisioned." They didn't go into detail about what they plan to change about the game.
The development team for Uncharted 4 has gone through some big changes since Naughty Dog started the project. Writer and creative director Amy Hennig left last year to join Visceral Games. Game director Justin Richmond joined League of Legends developer Riot Games. Druckmann and Straley, directors for Last of Us, took over leadership of the project following those departures. It's possible that these major personnel changes caused Naughty Dog's vision for the game to shift. Different leadership is naturally going to lead to different ideas.
It's not surprising to see Naughty Dog to be slow and steady with Uncharted 4. Thanks to the huge critical and commercial success of the first three Uncharted games and Last of Us, expectations are high for the studio. The bar's even higher for their first PS4 game. Naughty Dog's games for PS3 were some of the best-looking releases on that console and I think a lot of people are hoping for a big leap forward from that already-elevated standard in the studio's PS4 debut. On top of all that, everyone anticipates great gameplay and narrative from Naughty Dog as well.
The studio said that they're targeting 1080p resolution and 60 frames per second for Uncharted 4. Their plans for the game's story and gameplay are still a mystery, though.
Your Daily Blend of Entertainment News
Staff Writer at CinemaBlend.