A U.S. Senator Has Asked The ESRB To Consider Loot Boxes In Game Ratings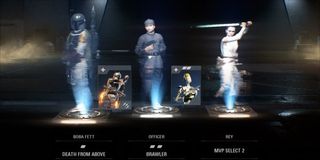 (Image credit: Electronic Arts)
The ongoing battle in the video game industry over loot boxes and microtransactions has taken a more definitive step that might have some publishers shaking in their boots. A U.S. Senator has urged the FTC to further investigate loot boxes, as well as urged the ESRB to consider adding a ratings label to games that contain premium loot boxes.
Glixel managed to view the letter that was sent to the ESRB from Senator Maggie Hassan, where Hassan wrote...
Hassan urged the ESRB to consider adding the requirement to have warning labels on the front of physical retail boxes for video games that contain premium loot boxes. The warning label would be similar to the warning label required for tobacco that tells potential customers the health hazards.
Even before premium loot boxes became the big digital selling point for many AAA titles, there were numerous reports about kids over-spending via microtransactions in mobile games and premium games alike. Many times games are designed so that purchasing microtransactions is made as easy and seamless as purchasing in-game goods with virtual money. This has caused quite a few headlines to pop up over the years where kids mistakenly spent real money in games like FIFA or NHL as they attempt to upgrade their characters or improve their team stats. Many of these practices still persist in games like EA Sports UFC or Madden NFL, where ultimate team packs can be purchased with real money to upgrade your characters.
Things have steadily escalated, however, with games like Star Wars: Battlefront II, Destiny 2 and Forza Motorsport 7 -- games that have ratings low enough for kids under the age of 18 to pick them up from local retailers without supervision -- where progression and upgrades were tied to the loot boxes in ways that would allow gamers to purchase cash shop items to improve their performance in-game.
Star Wars: Battlefront II was the poster child of loot box shenanigans when gamers discovered that the premium loot boxes would be tied to player progression, causing such a massive outcry that Electronic Arts was forced to remove the paid microtransactions from the game. And, it forced Disney and LucasFilms to distance themselves from the monetary practice instituted by EA.
The ramifications of that decision have been long lasting, however. Many lawmakers, and representatives for gambling commissions, have been keeping the discussions going, which includes the recent steps made by Senator Hassan to get the ESRB to change the way it rates games with premium loot boxes. Previously, the ESRB stated that premium loot boxes were not gambling because gamers always received something for their money. Some argued that if you get free drinks at a casino when you gamble does it no longer make it gambling? That question has yet to be addressed, but Senator Hassan has gone on ahead and requested the FTC to investigate the issue independently. So, even if the ESRB continues to stand firm against regulating games with premium loot boxes, there may be some intervention from the FTC down the road.
Staff Writer at CinemaBlend.
Your Daily Blend of Entertainment News
Thank you for signing up to CinemaBlend. You will receive a verification email shortly.
There was a problem. Please refresh the page and try again.