How To Get The Original Devil May Cry For Free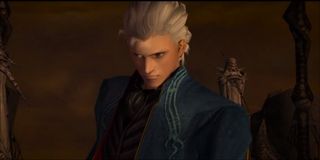 (Image credit: Capcom)
There's a way to play the original Devil May Cry for free without paying a dime on PC. Yes, you can play the PC version of the game ahead of the release of the Devil May Cry HD Collection due for release next month on PC, PS4 and Xbox One.
According to the Capcom Unity blog, starting February 27th you'll be able to play the original Devil May Cry for free on PC with a Twitch Prime premium membership. This is a limited time offer, but if you sign up for a Twitch Prime membership you'll be able to gain access to Devil May Cry through the Twitch Desktop App. You'll have to log into your Twitch.tv account to access the game. You can also acquire it by signing up for the free trial through Twitch Prime.
This promotion will be available only for a short period ahead of the launch of the Devil May Cry HD Collection, which is set to debut on March 13th, 2018 for the Xbox One, PS4 and PC for $29.99.
The HD collection contains Devil May Cry, Devil May Cry 2, and Devil May Cry 3.
The original Devil May Cry came out back in 2001, and it was the introduction to a hack-and-slash, 3D action genre that would literally shape how many Japanese-themed games from accomplished developers would be designed for future generations, including setting the groundwork for Platinum Games' Bayonetta and Metal Gear Rising: Revengeance.
The first Devil May Cry featured a solemn Dante, using Ebony and Ivory to take down some super hard bosses in reflex-based gameplay set across 3D maps with arena-style encounters.
For gamers who never had an opportunity to play the original game on the PlayStation 2, getting the game for free through a Twitch Prime membership isn't a bad way to experience the classic.
Some gamers in the comment section aren't entirely pleased with the news and would prefer if Capcom re-released an HD (or UHD in relation to the PS4 Pro and Xbox One X) version of Devil May Cry 4: Special Edition. Some feel that it's unfortunate it's being left out of the HD collection due for release this March.
Others aren't really concerned with what was released back in the day, but are more curious about what's to come, asking Capcom for a Devil May Cry 5. I'm pretty sure, like most fans have mentioned, if the Devil May Cry HD Collection sells well enough, it's likely that we'll see a Devil May Cry 5.
New entries in the series were put on hold after Ninja Theory took a crack at the series and made some changes to the portrayal of Dante and the game world, which ended up turning off a lot of the core fans who enjoyed the series under Capcom's development.
If you want to check out the original game ahead of the HD collection release, you can do so starting February 27th if you have a decent enough PC to run the 17-year-old game.
Staff Writer at CinemaBlend.
Your Daily Blend of Entertainment News
Thank you for signing up to CinemaBlend. You will receive a verification email shortly.
There was a problem. Please refresh the page and try again.