Diablo 3 May Be Coming To The Nintendo Switch After All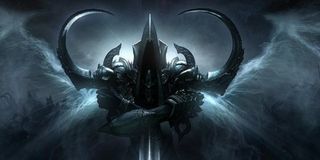 Much like the gif used to start this whole rumor mill in the first place, the potential of Diablo III coming to the Nintendo Switch has been an on again, off again thing over the past week. The good news is that, based on the latest rumor, it's currently flipped to "on."
According to Eurogamer, unnamed sources have confirmed that Diablo III is very much so in development for the Nintendo Switch. Not only would that be a big get for Nintendo's home console/portably hybrid, it would also be the first Blizzard game to appear on a Nintendo platform in more than a decade.
But again, we feel the need to point out that this is still rumor and speculation as of this time. Eurogamer isn't in the business of making up sources, and said sources are typically on the money when they report on these types of rumors but, until we get official confirmation from someone at Blizzard, or perhaps another gif that seems a bit more on the nose, we're going to have to keep this one in the unconfirmed pile for the time being.
The dialogue got rolling last week when Blizzard, for no reason whatsoever, posted to Twitter with the message "Sweet dreams." That message was accompanied by a gif that boasted a Diablo head as a nightlight. That nightlight was, of course, being switched on and off.
The community, of course, took that to mean Diablo III was in development for the Switch. As we reported shortly after, Blizzard responded by saying they were "not that clever" and that they had nothing to announce. They called the tweet nothing more than a "community engagement piece," which we figure they achieved.
Of course, if it turns out this truly was a reference to Diablo III on Switch, then why the heck would they deny it? Seems pretty odd, unless this was their "clever" way of keeping the buzz going without officially announcing anything before they were supposed to.
For their part, Eurogamer pressed their source on any additional details and came up blank. In other words, we don't know if we're looking at vanilla Diablo III, the Reaper of Souls version or if the Rise of the Necromancer expansion is part of the mix. That is, of course, assuming the sources are accurate about the game being in development in the first place.
We figure Diablo III would be an obvious fantastic fit for the Switch and, as games like Skyrim and DOOM have proven, gamers on the platform are open to the idea of playing older titles on the newer Nintendo hardware. Heck, I'm playing Bayonetta on the Switch for the first time right now. There's just something about that console that makes everything old new again.
Your Daily Blend of Entertainment News
Staff Writer for CinemaBlend.
Your Daily Blend of Entertainment News
Thank you for signing up to CinemaBlend. You will receive a verification email shortly.
There was a problem. Please refresh the page and try again.