Diablo 3 Experience Bonus Now In Effect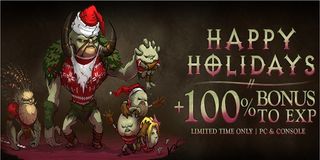 Blizzard is giving back for the holidays, enabling Diablo III players to make use of a very festive +100% bonus experience buff over the weekend. This isn't just a platform exclusive buff either, both PC and console players will be able to get in on the event... while it lasts.
Over on Blizzard's official Battle.net site the news post explains what gamers will be able to get out of the event, including the announcement that this special +100% experience buff will stack with other buffs. That's right, if you bought potions or acquired special limited items or gear that also buff your experience points, all of that will stack with the special holiday experience bonus.
As mentioned in the post...
There is a bit of a catch to the timing of it all, though. The experience buff will go into effect and will end based on the regional time zones for PC gamers. So that's 12:00am, PST for the Americas, 12:00am, CST for Europe, and 12:00am KST for Asia.
For console gamers the buff is expected to start and stop in every region at the same time. Blizzard also offered up a very comprehensive chart showing when the buff will get underway and when it will end. You can use the chart to help you understand where you fit on the time zone scale. You can check out the chart right here.
For console gamers, the buff is only eligible to those who own Diablo III: Ultimate Evil Edition.
Diablo III is an isometric action-RPG that is the sequel to David Brevik's Diablo II. The second game has gone down in history as one of the very best hack-and-slash, loot-and-grind role-playing games of all time.
Diablo III got off to a rocky start when it had its always-on DRM causing people some trouble and issues. The game's always-on DRM was implemented as a safeguard for Blizzard's Real-Money Auction House. It was one of the more controversial elements to appear in a video game over recent years.
After some consumer trouble with the RMAH, Blizzard eventually decided to shutdown both the Real-Money Auction House and the standard in-game gold auction house. It was a real win for gamers and consumers alike when the RMAH went down; it was originally banned in South Korea, one of Blizzard's largest markets, because certain members of the Korean government saw it as a slippery slope for legalized gambling via interactive entertainment. The ministry of culture made sure that Diablo III wouldn't see the light of day in South Korea unless the auction house was disabled.
Thankfully, console gamers didn't have to deal with the RMAH or the always-on DRM. Both features were removed from the home console release. In addition to that, Blizzard also tossed in four-player local co-op modes for console gamers. Some fans feel as if Diablo III: Ultimate Evil Edition for the Xbox One and PS4 is the definitive edition of the game. It's almost impossible for me to argue otherwise.
You can pick up a digital or boxed copy of Diablo III right now. For more information on the game feel free to visit the official website.
Your Daily Blend of Entertainment News
Staff Writer at CinemaBlend.