Over 50 Sega Genesis Titles Are Coming To PS4 And Xbox One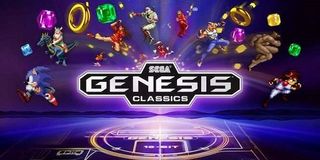 If you're looking to play some old-school games on modern consoles, Sega is making that process as easy as possible thanks to a newly announced collection of 50-plus games in a single package. Get ready to go retro with Sega Genesis Classics for PlayStation 4 and Xbox One.
Based on a the above tweet, Sega Genesis Classics is set to launch on the PlayStation 4 and Xbox One on May 29. You might have noticed that there's a Steam logo included in the announcement trailer but, as of now, a release date for that platform has not been confirmed. It sounds like this collection will be similar to Sega museums launched on previous platforms, but with lots of nice bells and whistles thrown in for good measure. As noted in the tweet, visual filters will be in the mix, along with Mirror Mode and a rewind feature. That last one is especially handy for folks wanting to work their way through classic games without fear of relying on limited lives and the like. For those not worried about a "pure" run through a difficult older game, it can certainly be a sanity saver.
Remakes and remasters have been all the rage in recent years, ranging the spectrum from Crash Bandicoot to Bayonetta, Halo to Shadow of the Colossus. Nintendo has found similar success in their own retreads, with both the NES Classic console and SNES Classic selling out all over the place. You can think of Sega Genesis Classics as a similar take on what Nintendo has been doing only, instead of requiring you to buy a unique box that has to be plugged into a TV, Sega is putting all of their games onto a single disc and letting players enjoy them on consoles they already own. I love the idea of Nintendo's classic consoles but, if given the option to pay the same price for a cart full of nostalgic titles I could simply pop into the Switch, I'd take the latter in a heartbeat.
We'll have to wait and see how well these classic Sega games have been converted in Genesis Classics but, again, they've been releasing these kinds of collections for a while now and we'd be surprised if the titles don't play exactly how fans remember.
For those keeping track, Genesis Collection appears to be the most complete Sega collection to date, besting both Flashback consoles and previous disc-based collections by about a dozen titles. While the collection certainly isn't a complete retread of all Genesis titles, we figure just about anything you could hope for has been included in Genesis Classics. Oodles of Sonic games are included, as well as a trio of Street of Rage titles, both ToeJam & Earl games, the Golden Axe trilogy, Gunstar Heroes (a personal favorite), the abysmal but still loved Altered Beast, Dr. Robotnik's Mean Bean Machine and many, many more.
Staff Writer for CinemaBlend.
Your Daily Blend of Entertainment News
Thank you for signing up to CinemaBlend. You will receive a verification email shortly.
There was a problem. Please refresh the page and try again.