More SNES Classics Are Coming Into Stock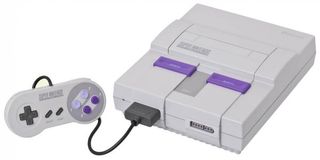 (Image credit: Nintendo)
Nintendo's SNES Classic Edition launched in September and quickly sold out shortly thereafter. In fact, many of the units sold out once pre-orders became available. Gamers and potential customers became incensed at the lack of units available, but Nintendo is quickly rectifying that problem with more SNES Classic Editions coming back into stock.
Gamespot is reporting that Nintendo has kept to its promise of rolling out more stock keeping units for retailers across the nation, including supplying GameStop and ThinkGeek with more supplies.
The article is reporting that ThinkGeek has received more shipments, and that GameStop has also announced that that it, too, has received additional stock. However, as is common with a hot property from Nintendo, it's important to recognize that the SNES Classic Editions likely won't stay in stock for long.
In fact, scalpers were using bots to auto-purchase the SNES Classic Editions from e-tailers during the pre-order phase. This allowed eBay resellers to post product and sell it at marked up prices during the launch of the mini-console at the end of September.
It's likely that you'll have to act fast if you want to get an SNES Classic Edition if you missed out on the unit's first phase of availability during September. The next phase might stand to be slightly more in your favor given that Nintendo has also been ramping up production to meet the demands from consumers during the holiday season this fall.
Nintendo has also been doing the exact same thing with the Nintendo Switch, giving consumers more options in purchasing the hybrid console this holiday season -- especially given that the Switch's AAA exclusive, Super Mario Odyssey, is due for release later in the month.
The article also notes that both retailers mentioned above will likely have full stock supplied by October 12th, later in the week. Of course, if you wait until Thursday to go in to pick up a unit, they might be all sold out.
The SNES Classic Edition -- despite having more units made available during the initial launch month -- is still in short supply due to all the demand. It's even more popular than the NES Classic Edition. This is likely due to the fact that the SNES was out during a time that many consider to be the Golden Age of gaming. Also, the SNES is one of the most revered and beloved gaming devices of all time. Add the fact that Nintendo, for the very first time ever, decided to include the fully developed rendition of Star Fox 2, and you have a recipe for a device that was bound to be hugely popular with gamers and collectors alike.
You can get your hands on the SNES Classic Edition either by ordering it from an online e-tailer or by attempting to run the risk of picking one up in-store. Both ThinkGeek and GameStop have noted that it would be wise to call around first to see if there are SKUs before just driving out to your nearest store.
Nintendo must be enjoying 2017 so far, considering that the company's products have all stayed sold out throughout the entire year, including the NES Classic Edition, the SNES Classic Edition, and the Nintendo Switch.
Your Daily Blend of Entertainment News
Staff Writer at CinemaBlend.
Your Daily Blend of Entertainment News
Thank you for signing up to CinemaBlend. You will receive a verification email shortly.
There was a problem. Please refresh the page and try again.