How Star Wars Battlefront II Is Changing The Progression System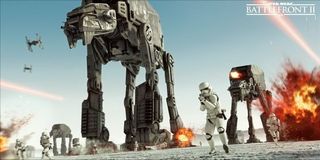 (Image credit: Electronic Arts)
Electronic Arts and DICE received lots of backlash over the implementation of the progression system in Star Wars: Battlefront II. The game was originally going to have a microtransaction-based premium loot box system, but EA scrapped it at the last minute. Well, EA and DICE are overhauling the system again and revealed how it was going to be done.
The info went live over on the official EA website, where a blog post details how the progression system will be revamped. The all new progression system will begin to roll out on March 21st, 2018 for PC, PS4 and Xbox One. The system will be completely overhauled and redesigned from the ground up.
The most obvious change is that Star Cards will now have linear progression in Star Wars: Battlefront II. Instead of unlocking Star Cards through the loot boxes, you'll now have to earn them through experience points and actually playing the game. Originally, Star Cards could be acquired through loot boxes. The first iteration of the system would have allowed gamers to purchase Star Cards through the loot boxes using real life money. Lots of gamers saw through the charade and pointed out that it effectively made the progression system pay-to-win. EA attempted to say that it was just giving gamers choice, but plenty of past MMOs that had identical systems made gamers impervious to the wiles of the system.
The new system sees players earning experience points. After earning enough points, players will earn a level and then unlock the skill points that can be used to unlock the Star Cards for the character class.
Crates also no longer contain Star Cards, so you won't be able to level up your characters simply by opening higher level crates. Additionally, everyone who has already unlocked Star Cards from crates before the upcoming patch, will get to keep all of their upgrades in Star Wars: Battlefront II.
I don't know if it's better or worse to attempt to buy a bunch of crates and attempt to unlock Star Cards or just wait and unlock the cards using the new system.
One of the things being added to the game are the all new cosmetic items that will be available in Star Wars: Battlefront II. Starting in April there will be new cosmetic options you'll be able to unlock for both Heroes and Troopers. Even though Electronic Arts said that cosmetic options wouldn't be possible due to the fact that new costumes and cosmetic options would be "lore breaking," it turns out that Electronic Arts is adding cosmetic options to the game anyway.
You can purchase the new cosmetics either using the in-game credits or with real-life cash by paying for the items with the virtual crystal currency. Crystals can only be purchased through first-party stores as a cash shop item. The addition of paid microtransactions is something that most people expected to make an appearance in Star Wars: Battlefront II, and EA is doing so in a down-played way to avoid the same kind of uproar and controversy suffered last year.
Staff Writer at CinemaBlend.
Your Daily Blend of Entertainment News
Thank you for signing up to CinemaBlend. You will receive a verification email shortly.
There was a problem. Please refresh the page and try again.