Life Is Strange Will Continue As A Comic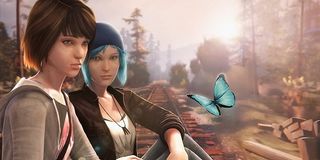 With the second story arc of Life is Strange finally drawing to a close recently, fans of the series may find themselves wishing they could go on just one more adventure within the game's world. The folks over at Titan Comics feel the same way, which is exactly why they're gearing up to launch a four-part Life is Strange comic later this year.
Titan Comics sent out a press release heading into the weekend announcing the impending arrival of a Life is Strange comic, all thanks to a partnership with Square Enix. The only problem is that we don't know what, exactly, the comic series will focus on.
It's only going to be a four-part event, so we doubt Titan plans on biting off a huge chunk of story to try to cram into less than a graphic novel's worth of pages. And the only clues offered in the press release are that readers will "dive back into the story of its beloved characters" and that it "returns readers to the setting of Arcadia Bay."
Honestly, that could mean that the comic is simply going to be a retelling of the original story from Life is Strange. Then again, a lot of events get carried out off camera in the game, so maybe this will be a sort of side story that focuses on a secondary character that will finally get their time to shine in the spotlight. Since it mentions the "beloved characters," we figure whatever tale the comic chooses to tell won't be too far removed from Max and Chloe.
If I had to make a guess, I'd put money on this being some sort of new narrative. The press release ends with a rundown of both Life is Strange and the prequel, Life is Strange: Before the Storm. It wouldn't make a heck of a lot of sense to give that kind of background if all you were going to do is flesh it out even further in the actual comics. Also, there's the fact that a sequel to Life is Strange is on the way, and stories between two games are frequently connected in other mediums like comic books.
Either way, this won't be Titan's first trek into the land of video games. They've already got comics based on the Assassin's Creed and Bloodborne series out, joining their stable of titles that range from Doctor Who to Independence Day. In other words, they're used to working on established franchises and their books seem to be well received, so we have high hopes for Life is Strange.
So what would you folks prefer; a brand new story, a bridge between games, a side tale from an existing game or a straight retelling? Let us know in the comments below.
Your Daily Blend of Entertainment News
Staff Writer for CinemaBlend.