Why Square Enix Gave Up Hitman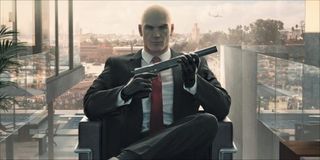 (Image credit: IO Interactive)
One of the more endearing moves by a publisher was when Square Enix gave up any attempts to be a rights holder over the Hitman IP when the publisher parted ways from IO Interactive earlier this year. Well, the publisher explained exactly why it gave up the IP and let IO Interactive keep hold of the prized property.
In an interview with GamesIndustry.biz, Square Enix CEO, Yosuke Matsuda, explained why the publisher didn't retain the rights to the Hitman intellectual property, saying...
That's a very interesting take on it and a very forward-looking approach to the brand and the business.
Most companies, like Electronic Arts, retain IP rights even if a studio is dissolved or the original creators part ways. There are a host of valuable IPs retained under the publisher's belt that happen to be lying dormant, from Command & Conquer to Legend of Kyrandia to games like Road Rash and Syndicate. to name but a few. Most recently games like Dead Space and Burnout were the popular games from the previous generation that are currently dormant in EA's vault despite fans clamoring for more content.
Square Enix didn't want to do that to IO Interactive.
Matsuda felt as if the Hitman DNA is firmly understood by IO and IO alone, thus it made more sense to let the developer retain the rights to the game as opposed to shuttering IO, retaining the rights, and then having another studio come in and attempt to make a different version of Hitman; similar to how Bungie and Microsoft separated but Microsoft's 343 industries took on the Halo license, or how Epic and Microsoft separated and Microsoft had The Coalition pick up the Gears of War license.
According to Matsuda, he felt as if Square just wasn't in a position to properly foster the Hitman brand, so it was best to just part ways. As noted in the GI.biz article, the last two outings from the brand did not go over well under Square's publishing label. Hitman: Absolution attempted to "broaden" the appeal of the IP by making it more action-heavy and themed after typical blockbuster Hollywood outings but it didn't quite turn into the profit-monster Square had hoped for. The 2016 outing of Hitman was critically praised, though many did rebel against the shift to an episodic story.
Matsuda obviously sees potential in the Hitman property, but Square and IO just couldn't hit that proper formula the way the company was able to do when Eidos Interactive was the publisher. Square is now looking to work with Marvel and Disney on several Avengers-themed games, with Eidos Montreal and Crystal Dynamics working on the upcoming titles.
IO Interactive is in a fairly decent position, having struck a deal with Hulu for a Hitman-themed television series written by the John Wick director, and also putting plans into motion to pursue a second season for the Hitman game based on where the 2016 season left off.
Your Daily Blend of Entertainment News
Staff Writer at CinemaBlend.
Your Daily Blend of Entertainment News
Thank you for signing up to CinemaBlend. You will receive a verification email shortly.
There was a problem. Please refresh the page and try again.