Ghost Recon Wildlands Is Getting Another Year Of Content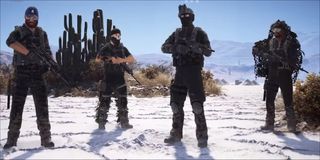 (Image credit: Ubisoft)
Ubisoft is continuing to support Ghost Recon Wildlands for PC, PS4 and Xbox One. The third-person shooter came out last year in the spring and received a number of updates and DLC, but Ubisoft recently announced that a second year of content updates will get underway throughout 2018.
In the press release, it was announced that during the second year of content, Ghost Recon Wildlands will receive free content for both the campaign mode and the PvP, including the new Special Operation 1 update, which is set to go live on April 10th for PlayStation 4, Xbox One and PC.
The Special Operations 1 update will include teammate customization, allowing players to customize and outfit their teammates during the campaign mode. This was added as a brand new feature after being specially requested by the community ever since the game launched last year.
The customization for the teammates will allow players to outfit their buddies with the clothing items that they've unlocked during their playthrough.
A new update to the PvP feature will also be available in the Special Operations 1 patch, including a brand new game mode for Ghost Recon Wildlands called "Sabotage", which contains five exclusive new maps. There is also a new playable class and brand new perks and weapons to unlock for the character classes. The Special Operations 1 update will feature the first of six new playable character classes, which will be rolled out throughout 2018 as part of the Year 2 content roadmap.
Gamers who aren't entirely thrilled with killing each other in PvP modes will find that there are also some new updates for the PvE content as well. A special new PvE mission has been added with additional special challenges and unlockable rewards.
Now, while some of the content for Year 2 will be free, a lot of it will be premium. This means players will have to pay for the content. To help make the move into the premium content easier, Ubisoft has a Year 2 Pass, which is a season pass for all second year content. This also includes a week's worth of early access to all Year 2 Ghost War classes, along with access to an exclusive customization pack, and eight battle crates that feature four Special Ops crates and four Ghost War crates in order to customize your character(s) for the main campaign mode. The Year 2 Pass will run you $29.99, as outlined on the Ghost Recon web portal (opens in new tab).
Ubisoft started paying a lot more mind to the game after it managed to rack up more than 10 million players worldwide across all three platforms. The sales for the game allowed it to warrant enough attention for a second year's worth of output, so, much like Rainbow Six: Siege, Ubisoft is giving the fans what they want.
Ghost Recon: Wildlands features a four-player cooperative campaign that can be played either solo or with up to three other players. The developers also recently added an event where you and your friends attempt to hunt down the AI that's controlling a Predator. Yes, this is based on the popular movie starring Arnold Schwarzenegger.
You can look for the Year 2 content for the game to start dropping on April 10th.
Your Daily Blend of Entertainment News
Staff Writer at CinemaBlend.