World Of Warcraft's Battle For Azeroth Expansion Dated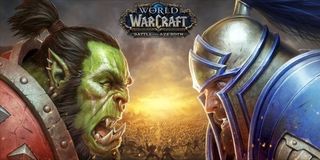 (Image credit: Blizzard Entertainment)
Blizzard Entertainment is still supporting World of Warcraft. I know, it's crazy, but after all these years the company is still supporting the MMORPG that came out more than a decade ago. Well, the latest expansion pack, World of Warcraft: Battle For Azeroth, has finally received an official release date.
Game Informer is reporting that the newest expansion is set to arrive on August 14th, 2018.
The expansion will introduce a number of new gameplay mechanics and features. Blizzard is attempting to reinvigorate the game with a new direction by mixing in some PvE and PvP content.
Much like the open-PvP flags in games like Allods Online, there's a new flag of war in World of Warcraft that will enable players from the Horde or Alliance side that enables them for open-world PvP.
Some gamers might be wondering "Why on Earth would I want to flag my character for open-world PvP?" Well, Blizzard upped the ante with an experience boost for players with the flag of war turned on. This is how it is in other similar MMORPGs when there's the option to turn on the flag of war. You risk being ganked by anyone from an opposing faction and losing experience or items, but also you gain additional leveling experience and sometimes bonus items for having the flag turned on.
World of Warcraft: Battle For Azeroth also features class-agnostic islands that you can visit with three-person teams where you attempt to complete tasks and conquer the islands, which are setup like mini-dungeons. These isles are available for both Alliance and Horde members.
What's interesting is that the islands will have more than just standard enemy NPCs. Blizzard is implementing new three-person team AI that will have different class and skill makeups that will push players to the limit by also attempting to win the goodies from the isles, which creates a rather different kind of team dynamic for players to work through. It's rare that an MMO has a more emergent approach to AI combat as opposed to preset AI mobs and bosses, so this could definitely add a lot of life to World of Warcraft if it works as intended.
Not only are there random AI teams, but there are also random weather conditions that players will have to deal with, along with other players who will also attempt to come out on top.
Blizzard has been experimenting with many of the newer expansion packs for World of Warcraft, taking different types of liberties with new modes and ways to engage with the content and other players as the company attempts to retain player engagement.
The subscriber base has been dwindling rather drastically since 2012 or so, and that's likely due to newer MOBAs coming onto the scene like Heroes of the Storm, DOTA 2, and League of Legends, but Blizzard is still sticking with updating and providing new content for the long-running MMO that changed everything back during the mid-aughts. You can look to get in on the latest expansion starting this August.
Your Daily Blend of Entertainment News
Staff Writer at CinemaBlend.