When World Of Warcraft's Next Expansion Will Arrive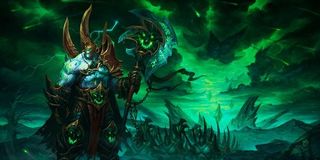 The factions of World of Warcraft are done playing nice. They teamed up to fight a greater evil during the current expansion but, once Battle for Azeroth drops, that unsteady alliance will be broken. And based on the latest announcement from the folks at Blizzard, the truce will finally come to an end this summer.
We've known for a while now that Battle for Azeroth was coming to World of Warcraft and, thanks to a handy trailer revealed this past November, we even have a good idea of the new content it will offer. The folks at Eurogamer, though, have finally put a pin on a launch window for the popular MMO's next expansion. It's expected to drop sometime this summer or, more specifically, before Sept. 21.
That's a wide window and still a ways off, but at least it gives us a more realistic idea of when the truce will be broken and the world...of Warcraft...will be torn asunder.
If that sounds like something you want to buy before launch, doing so will give you the ability to instantly jump up to the game's current level cap of 110. You'll also, apparently, get a head start on quests used to unlock the Allied Races when the full expansion finally launches. Given the fact that the new WoW expansion will be broken across two main islands with additional islands in the middle, my guess is that you'll be gearing up to set sail once your head start experience comes to a close.
If you feel like forking over some extra cash for the game's Digital Deluxe Edition, you'll earn everything above along with a Seabraid Stallion Alliance mount or Gilded Ravasaur Horde mount. You'll also get your hands on a baby Tortollan pet. This bundle includes additional benefits for other Blizzard games, including voice lines, sprays and player icons for Overwatch, a card back in Hearthstone, a Storm Flamesaber mount in Heroes of the Storm and a pair of sprays for StarCraft 2 boasting Horde and Alliance designs. That practice has been pretty common out of Blizzard as of late, and it's actually a pretty cool synergy benefit for folks who play several of their games.
As you might have guessed from the trailer, this latest expansion for World of Warcraft has something of a pirate and exploration slant. It takes the game back to its roots, in a lot of ways, when a more simple conflict drove the action and players were encouraged to get out and find new discoveries. Factions will have their own new island bases to call home, with missions sending them to cause trouble on the opposing faction's island. New Warfront instances will pit 20 players against NPC commanders and their horde, and new races are also being introduced to the game. Oh, and the level cap is boosting to 120.
The World of Warcraft Battle for Azeroth expansion will go live sometime before September 21.
Staff Writer for CinemaBlend.
Your Daily Blend of Entertainment News
Thank you for signing up to CinemaBlend. You will receive a verification email shortly.
There was a problem. Please refresh the page and try again.