People Claim Fortnite Brainwashed Their Loved Ones, Call For A Ban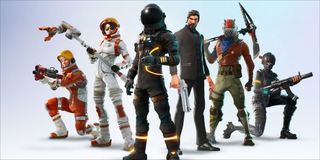 (Image credit: Epic Games)
There are a number of petitions out there for a number of worthy causes: petitions against corporate animal abuse, petitions against national violence, and petitions against certain political structures. But one thing you probably never thought you would see a petition for is to ban a game because boyfriends are too addicted to Fortnite.
Yes, Gamespot is reporting that more than 1,000 people signed a petition on Change.org titled "Epic Games Get Rid of Fortnite". The petition was originally made around two months ago, claiming that Fortnite was taking gamers away from loved ones and that they weren't answering texts from girlfriends and phone calls from their mothers. The description of the petition, from Chloe and Jaden DePalma, stated that Fortnite is "taking over our boyfriends lives and brainwashing them."
After the petition blew up and gained attention from various media outlets, including the Washington Post, Chloe and Jaden came clean about the true nature of the petition, which originally asked for the ban of Epic Games' Fortnite, with the duo writing...
The comment section on Gamespot aren't amused, actually. Many of them note that they've had a hard time getting into any of the Battle Royale games, such as Rules of Survival, PlayerUnknown's Battlegrounds and, of course, Fortnite.
However, just because the people in comment sections aren't entirely addicted to the free-to-play Battle Royale survival game from Epic Games, it doesn't mean other people aren't addicted. Heck, the game was so popular that it even managed to attract the attention of basketball and music celebrities.
Even still, despite coming out and revealing that the petition was actually made out to be a joke, there are some people who are still signing it and stating that the game really is "annoying" and "distracting". One student, in particular, stated that her friends have received lower grades because a lot of kids are playing it on their phones during class.
It hasn't just been girlfriends, wives, and mothers complaining about Epic Games' survival Battle Royale game. Some male students have stated that their friends are also addicted to the game and that people have been rude to the teachers due to being interrupted by players playing Fortnite on mobile devices. Another gamer said that everyone in his house has been "brainwashed" by the game except for him and his mother, calling it the "definition of evil".
After an initial rocky launch with the release of the Save The World Mode a couple of years ago, Fortnite kind of languished on the market, but after going free-to-play with the Battle Royale mode, following in the footsteps of PlayerUnknown's Battlegrounds, the game blossomed into a huge phenomenon. And whether the initial petition makers were joking or not, the petition has created a debate about how pervasive the game has become in the average household and classroom.
Your Daily Blend of Entertainment News
Staff Writer at CinemaBlend.