PUBG Corp. Is Suing Another Developer For Copyright Infringement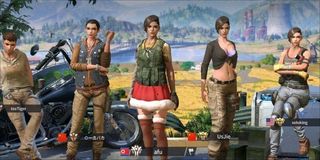 (Image credit: NetEase)
PUBG Corporation had made mention in the past that it would pursue legal actions against copyright infringement, especially against companies that rip-off the Battle Royale concept and attempt to cash in on the popularity from PlayerUnknown's Battlegrounds. Well, it looks like the outfit is holding true to its word.
Torrent Freak is reporting that PUBG Corporation has filed a copyright infringement lawsuit against NetEase Games' Rules of Survival, which is hailed as the first ever 300-player Battle Royale game made available for mobile devices.
Rules of Survival is currently available for iOS and Android devices from the iTunes App Store and the Google Play Store. There's also a free version to try on PC, which can be acquired through the official website for the game.
PUBG Corporation also filed a claim against the game Knives Out, which is another Battle Royale survival game from NetEase for Android devices, iOS smart phones, and on Windows for PC.
The report from Torrent Freak notes that PUBG Corporation is suing on the grounds that NetEase copied elements from PlayerUnknown's Battlegrounds in order to beat the game to the market and take control of the mobile marketplace without getting permission from PUBG Corporation.
There's a 155-page legal complaint that states that a variety of elements from PlayerUnknown's Battlegrounds were copied and reused without permission in both Rules of Survival and Knives Out. There are also claims that the weapons, clothes, vehicles and constantly shrinking play-area were also copied from PlayerUnknown's Battlegrounds.
One of the more conspicuous charges was the use of the "Winner Winner Chicken Dinner" phrase, which is a staple in the PlayerUnknown's Battlegrounds universe due to a collaborative cross-branded deal with KFC. Within the lawsuit, PUBG pulls up an image from the game Knives Out that literally uses the "Chicken Dinner" slogan as a bit of promotional material for the Battle Royale game.
The lawsuit also points to confusion among gamers calling Knives Out "PUBG" in some video content descriptions. The lawsuit kicked into high gear after PUBG Corporation reached out to Apple and Google to have Knives Out removed from the store pages for copyright infringement, but the game was not removed from the digital storefronts.
Failing that option, PUBG Corporation decided to move forward with the lawsuit. The outfit wants NetEase to not only stop selling both Knives Out and Rules of Survival, but to also "cease" development on both games as well. This would mean that anyone who plays the games would no longer be able to play them and it would end service for both titles.
The creative director for PlayerUnknown's Battlegrounds had mentioned in the past that there needed to be stronger copyright laws to protect against derivative works, which was a topic that popped up after Epic Games released the Battle Royale mode for Fortnite, but it looks like the company is moving forward with the lawsuit against the copycat clones from NetEase instead. Whatever the ruling is could have some drastic effects on other games that are similar in nature to existing properties.
Your Daily Blend of Entertainment News
Staff Writer at CinemaBlend.