Kratos Is Adorable In European 'Dog Of War' Commercial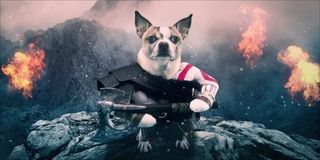 Sony decided to get creative with the commercial for the recently released God of War for the PlayStation 4. The game features a more cinematic take on the traditional formula, and the marketers obviously had some fun with that with the "Dog of War" commercial.
The commercial was posted over on the PlayStation Europe YouTube channel. The commercial is just under two minutes, and it starts with a marketing meeting where Ed seems to have messed up and put together a commercial for the Dog of War and not the God of War.
The parody trailer sees a little pug and his companion running through green screen scenarios based on some of the locations in Santa Monica Studio's recently released hack-and-slash title.
The commercial is pretty hilarious, with Kratos being replaced with a dog, hacking and slashing away at the undead enemies within the game and performing some exemplary feats while traveling through Midgard.
The end of the trailer sees the marketing team completely stunned at the commercial, and Ed makes one last desperate plea to make the commercial work by asking them "How committed are you to the name?" after mistakenly creating the ad for Dog of War instead of God of War.
The PlayStation Europe channel even added a cheeky description, making plenty of dog puns about Kratos living outside the shadow of the gods while visiting and adapting to "unfamiliar kennels" and dealing with the burden of earning another chance at being petted. Instead of visiting Midgard the description notes that Kratos and his son Atreus must work together to travel to through the realm of Muttgard.
The full game is nothing like the spoof with the dogs. In the full thing players take on the role of Kratos as he leads his son up to the top of the mountain, where Atreus' mother requested her ashes be scattered.
What starts out as a somewhat unorthodox father-son journey, eventually becomes a battle against the gods, as Kratos has to dig up old flames and tend to old wounds from his past as he comes to terms with being a father once more and hoping to raise a strong and uncompromising son.
Unlike the previous God of War games, this newest re-imagining is a more cinematic take on the franchise with a strong focus on character development.
The game is already receiving a lot of top review scores from most major media outlets, and will likely end up being a Game of the Year contender at the 2018 Game Awards. For now you can pick up a digital or physical copy of God of War, exclusively for the PlayStation 4. And don't worry, you won't be playing as a little dog looking to play fetch with its owner.
Your Daily Blend of Entertainment News
Staff Writer at CinemaBlend.