Conan O'Brien And Bill Hader Play God Of War In Hilarious Clueless Gamer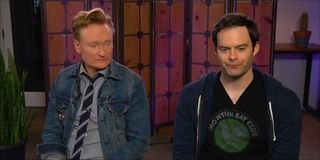 The latest God of War for the PlayStation 4 has been making waves, and that means that the game eventually made its way across the desk of Conan O'Brien. This obviously resulted in Team Coco doing a Clueless Gamer episode featuring God of War.
The video was posted up on the official Team CoCo YouTube channel, where Conan O'Brien and Bill Hader put in time playing God of War from Cory Barlog and Santa Monica Studio.
The video opens up with Conan and Bill Hader talking about the new show Barry. However, they don't talk much about the show, instead they start making fun of Aaron, who attempts to describe what's going on with the story of God of War.
At the very start of the game, after Aaron explains what Kratos and Atreus are doing, Bill and Conan find themselves running through the forest, chasing after Atreus while they attempt to hunt down a deer. Funnily enough, they begin joking about people who may walk in on the game without any context, seeing big 'ole Kratos running after Atreus thinking that he's a psycho-killer trying to kill his kid. Technically, Kratos already did that.
As they hunt down the elk they begin joking about the awkward silences between the two in-game characters, saying that it was like those moments Conan shared with his dad where they had those awkward moments of silence.
Later on they finally get into a fight, and then shoot the elk. Both Conan and Bill aren't ready to see the elk die, though. They give out an emphatic "oooh!" when they see Kratos force Atreus to stab the animal in the heart.
They briefly stop cracking jokes when the giant troll reaches up and grabs the fallen elk while knocking Atreus off the hillside. But it doesn't take the two funnymen long to get back to wise-cracking about Kratos and his son.
After downing the troll the two joke about how video games aren't going to likely teach older men that they need to have a better relationship with their kids.
They crack some jokes about Baldur's tattoos, and then perk up when they find out about meeting the witch in her magical turtle in the forest after lopping off Mimir's head.
Once inside the hut they joke about the witch being a real estate agent, and then later joke about Atreus not being very useful. Conan and Bill then goof around saying they should kill the kid so Kratos can hook up with the witch in the hut and then use Mimir's head as a comic-relief version of Alexa.
Some of the reactions to the Clueless Gamer were kind of mixed, but it was going to be obvious given how popular God of War is right now with Sony PlayStation owners.
Your Daily Blend of Entertainment News
Staff Writer at CinemaBlend.