RAGE 2 Confirmed With Insane Live-Action Trailer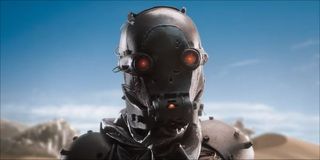 One way to completely take the wind out of the sails of a big announcement is to leak it early. This is what happened with Bethesda's entire E3 line-up set to go on display at E3 in June. Nevertheless, the company decided to make the best of the leaks and roll out a live-action announcement trailer for RAGE 2 ahead of the E3 presentation.
The funny thing about it is that, ahead of the live-action trailer being published, it was also leaked ahead of release. Bethesda just can't seem to keep the holes plugged when it comes to new game announcements being leaked.
Even still, ahead of whatever will be showcased at E3, the near minute-long live-action trailer for RAGE 2 is filled to the brim with a lot of explosive colors and explosive characters. The trailer starts with an homage to Mad Max, showing a character opening a door to a techno-junker in a post-apocalyptic future, and gearing up his taped-up steering and makeshift battle-mobile for combat.
We then see that there are a group of outlandish characters on display, including some techno-vagabonds located inside some sort of hub with a bunch of wires and mechanical augmentations fitted over their bodies, including having some cool looking helmets that look like they were based on Kronen from Hellboy.
We then see some other outland bandits wearing makeshift attire and being decked out from head to toe in tattoos. There's a scene that's a brief callback to the unique weapon stash from the first RAGE, where we see a character walking into a pink-hued battleground with the bladed throwing boomerang.
A limbless-mutant with a robot strapped to its back gets a spotlight in the trailer, along with some of the vehicles gamers can expect to see in RAGE 2.
We're shown a guy smoking with pink smoke coming out of his mouth in the form of a dollar sign, and a variety of wasteland bandits with a variety of weapons in tow, ranging from shotguns to machine guns. The theme of the trailer continues to filter pink mist and lighting throughout nearly every scene, including many of the bandits having pink mohawks.
There's a lot happening in a short amount of time, but it appears as if clan warfare may be a big part of the over-arching themes in RAGE 2, as we see some mutants running through the desert toward a group of techno-bandits.
We don't see any actual gameplay, but Bethesda promised that another trailer would be released featuring some in-game play for the first-person shooter, which is set to come out for PC, PS4 and Xbox One, according to the official web portal. Expect the gameplay trailer to tease features here and there, but don't expect the big reveal to take place until Bethesda's press conference at E3 this June.
Your Daily Blend of Entertainment News
Staff Writer at CinemaBlend.
Your Daily Blend of Entertainment News
Thank you for signing up to CinemaBlend. You will receive a verification email shortly.
There was a problem. Please refresh the page and try again.