Battlefield V Will Still Offer In-Game Currency And Microtransactions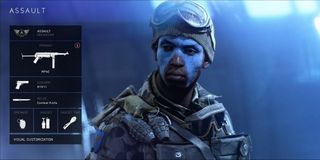 (Image credit: Electronic Arts)
During the reveal of Battlefield V hosted by Trevor Noah, it was made clear that Battlefield V was not going to have randomized loot boxes, a monetary system that's widely derided by gamers, a season pass, or even paid DLC maps. However, the game will still have in-game currency and microtransactions.
According to Polygon, players will still be able to earn upgrades and new weapons and accessories for their soldiers and equipment, but it won't be tied to monetary investments. In other words, you won't be able to pay for better upgrades to win matches.
You will, however, be able to pay for cosmetic options to give your characters and their weapons different sorts of looks, not unlike Team Fortress 2 or most other free-to-play first-person shooter games out there.
DICE and EA are promising a lot of customization, so much so that players will be able to modify their soldier's face, the war paint, camouflage, weapons, and clothing. In fact, there will be up to seven different locations where you can apply cosmetic items for the characters.
Additionally, vehicles will also be subject to player customization, including different cosmetic upgrades and various liveries.
The game will have actual weapon and character progression upgrades separate from the cosmetic upgrades. Both can be acquired for players, but only the cosmetics will be available for premium cash. The character upgrades and vehicles upgrades that affect player performance will not be purchasable.
This is a different approach to the character progression that was originally proposed for Star Wars: Battlefront II, which was removed at the last minute. DICE and EA had initially intended to have the game setup where you would have to purchase the loot boxes to unlock weapon and character upgrades. This loot box mechanic was heavily derided by gamers and even managed to get many parents involved and protesting to Disney directly in order to have the feature removed.
Electronic Arts did have the feature removed just a week before release, and spent the better part of several months retooling the system and re-debuting a premium model where players could purchase cosmetic skins for the heroes.
In the very old days, gamers used to be able to unlock new items, secrets, and costumes by simply playing the game. But during the seventh generation of gaming things changed and microtransactions became the norm, where players regularly had to pay to unlock new costumes or weapons.
Things have taken an even more drastic change with the advent of loot boxes, where players pay to access random boxes that may or may not contain what they desire. Some gambling commissions in various countries have labeled loot boxes as gambling.
EA appears to be avoiding that conundrum by not including loot boxes in the upcoming Battlefield V, but standard microtransactions and cash shop items will still be present when the game launches on October 19th for the Xbox One, PS4 and on Origin for PC. Those who pre-order the deluxe edition or are subscribed to EA Access will receive early access to Battlefield V ahead of the initial launch.
Your Daily Blend of Entertainment News
Staff Writer at CinemaBlend.
Your Daily Blend of Entertainment News
Thank you for signing up to CinemaBlend. You will receive a verification email shortly.
There was a problem. Please refresh the page and try again.