Wait, Could Microsoft Be Looking To Acquire EA?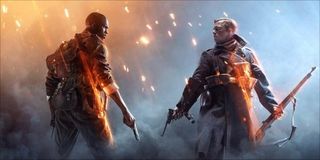 (Image credit: Electronic Arts)
Now here's the kind of news that probably will illicit a ton of speculation, lots of discussion, and endless debates about whether or not Electronic Arts and all of the IPs under its corporate branding will be better served under Microsoft. There's a rumor that Microsoft could be eyeing a purchase of EA.
Polygon is reporting that after talking to four industry analysts, there's a common thread in the reports from these insiders that hint at Microsoft looking to fast-track the company back into the competitive spotlight in 2018 for Xbox exclusives by using the shortcut known as "acquisitions".
Building new IP from the ground up can take anywhere between two to eight years, depending on if established technology is used, or the size of the team, or the scope of the project. One way to bypass that is to acquire a studio and its already established intellectual property. In this case, some analysts believe that there are three major names that Microsoft is looking toward purchasing, including Electronic Arts.
Why EA? Well, obviously because EA and Microsoft already have an established relationship with the EA Access for the Xbox One family of systems, and because EA and Microsoft have had long established relationships with many of the EA Sports titles that came out during seventh gen.
The article is quite lengthy, but the analysts believe that due to Microsoft's capital slush and EA's current valuation, it would make sense that Microsoft could buyout EA and add all of the company's current portfolio of titles to its line-up. There's no doubt about it that it would be a massive blow to Sony, PC gamers and maybe even Nintendo.
It would obviously mean that games like Madden NFL and the FIFA series could become annual Xbox-only exclusives, which would give Microsoft massive software market share. This would also completely fracture the first-person shooter market, with games like Battlefield being relegated to Xbox-only releases.
It would be a toss-up if Microsoft would keep Origin functioning or cull it from the line-up given that it competes directly with its own Windows Store.
But Microsoft would have a large and ready-made portfolio of established IP and franchises at its disposal, and if things worked out it could even mean a transitional license acquisition of Disney's Star Wars, which most fans would probably be happy to see under any other publisher that isn't EA.
However, there's no substantial or concrete evidence that Microsoft will purchase EA. It's just a discussion on the table. Apparently, Microsoft also discussed purchasing Valve, but given the bad blood between Valve owner Gabe Newell and Microsoft (due to Newell being a former employee at Microsoft) a buyout of Valve and its digital platform Steam seems unlikely. Plus Valve's properties aren't the most attuned for building up console market share and are definitely more themed around PC gaming.
Another possible acquisition that the analysts rolled out was PUBG Corporation, which most definitely seems possible given the huge success of PlayerUnknown's Battlegrounds on Xbox One. Of course, that's assuming Tencent Games doesn't transition its distribution deal with PUBG Corporation in China into an ownership one, which is exactly what happened with Tencent Games and Riot Games, the makers of League of Legends.
Of course, this is all speculation for now. What isn't speculation is that Microsoft has a dearth of exclusives on the Xbox One and the company is looking to rectify that problem ASAP in 2018. So we'll see what sort of actions the company takes to address the issue, which could include buying out a big publisher like EA.
Your Daily Blend of Entertainment News
Staff Writer at CinemaBlend.