Next Assassin's Creed Title Possibly Leaked Via Merchandise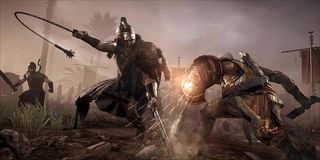 (Image credit: Ubisoft)
It appears a new Assassin's Creed title really is in the works. Some new leaks have popped up that give gamers an idea of what could be in store for the upcoming stealth-oriented, sandbox assassin game. However, the leak seems to have come from an odd place... specifically, merchandise.
According to Polygon, a collectible keychain was discovered by French gaming website Jeuxvideo-live.com. The image of the keychain is quite telling, as it's still packaged but allows people to see exactly what it represents. The keychain features a Greek Spartan's helmet, and the words "Collectible Helmet Keychain" on the side. But, the most telling part about the keychain is what's on the top of the package, where the title reads: Assassin's Creed: Odyssey.
Beyond that little tidbit of info we actually have no idea what the game is going to be about, or how it ties into the current mythos.
This information about a new Assassin's Creed actually isn't entirely new, though. Last year a source told CinemaBlend that there was a new Assassin's Creed in development set to take place in Greece.
The interesting thing about that particular rumor was that it came out before Ubisoft had announced Assassin's Creed: Origins, which took place in Egypt. The company announced the game last year during E3 and released it later in 2017, in October, for the Xbox One, PS4 and PC.
It's speculated that the source caught wind of the development of Assassin's Creed: Odyssey even though Assassin's Creed: Origins was the game that came out in 2017. Ubisoft usually has a three year lead on large AAA titles, so it would make sense that the person who leaked the details about Assassin's Creed: Odyssey taking place in Greece may have come across some assets or other material that one of the teams were working on in order to leak it.
As mentioned in the CinemaBlend article, it's very likely that both games were in development at the same time, with Origins set to come out first and Odyssey set to follow a year later.
This would mean that Ubisoft is going back to the annual-outing format for the Assassin's Creed games.
Of course, the most obvious question comes into play regarding the timeline of events: Homer's The Odyssey is set almost a millennium before the events of Assassin's Creed: Origins, so how will that work if Origins is supposed to be the origins story?
Some gamers believe the next game could technically pick up from where Aya left off in Origins and establish how she builds the Assassin's Brotherhood in Greece. This could make sense as it would give Ubisoft ample room to play around with exploring Greek culture without completely messing up the timeline. I suppose we'll find out exactly what the details are for Assassin's Creed: Odyssey when the game is presumably announced at this year's E3 during the Ubisoft press conference. Although, technically, just because the game is announced it doesn't necessarily guarantee that it'll release this year.
Your Daily Blend of Entertainment News
Staff Writer at CinemaBlend.
Your Daily Blend of Entertainment News
Thank you for signing up to CinemaBlend. You will receive a verification email shortly.
There was a problem. Please refresh the page and try again.