How Sony Is Celebrating LGBT Pride Month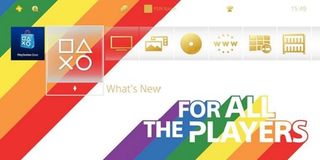 June is LGBT Pride Month, and Sony is getting in on the celebration by making a special offer on the PlayStation Store. It's a colorful theme, and it's free for everyone.
If you've noticed a lot of rainbows popping up in advertisements or on social media lately, that's because the next 30-odd days are a designated time to celebrate lesbian, gay, bisexual and transgender history, and rainbows are the traditional symbol of said community. Of course, everyone should feel free to celebrate the LGBT community year-round, but it's nice to set aside a month to really focus on a cause.
Speaking of focusing on the cause, Sony has decided to celebrate LGBT Pride Month by offering a free theme. You can download it from the PlayStation Store, or you can hop onto your PlayStation 4, head into the store and download it directly to your device. Once you've got the theme downloaded, you can head into "Settings," select "Theme Settings," then find your new theme in the list and select it to give your dashboard a splash of color.
The theme features that familiar rainbow with the slogan, "For All The Players." That's a nice spin on Sony's usual "For the Players" slogan, making it clear that they support everyone, no matter your race, religion, background or sexual orientation. The console's icons also boast a rainbow theme, completing the package. Unlike some themes, this one boasts the console's standard soundtrack.
It's taken games a long time to come around, but we're seeing more and more diverse casts these days. More people of color are taking the lead, as well as women and LGBT characters. One of the most critically acclaimed games of last year, Horizon: Zero Dawn, boasted a female protagonist, while Assassin's Creed: Origins' protagonist was from Egypt. Sure, we still have people freaking out over the appearance of female characters in games like Battlefield V, but we're generally making small strides toward better representation in games.
Speaking of Assassin's Creed, that series has had quite a few LGBT characters in the cast over the years, with games like Dragon Age and Mass Effect allowing players to explore just about every type of relationship imaginable. And then there are games like Life Is Strange, where a potential LGBT relationship is a major driver in the game's narrative.
So, yeah, we're making progress, so it's nice to see big companies like Sony jump in and show their support with things like the free theme now available on the PlayStation Store. Hopefully, these small steps will keep stacking up and someday soon everyone will feel like they are being represented in their favorite hobby.
Your Daily Blend of Entertainment News
Staff Writer for CinemaBlend.