The Awesome Adventures Of Captain Spirit Is A Free Prequel To Life Is Strange 2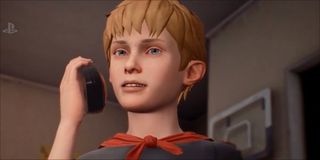 Dontnod Entertainment is setting up a lot of groundwork for Life Is Strange 2. We know that it's coming, we just don't know when, or exactly what it will be. Additionally, Dontnod doesn't want anyone to forget about the drama-based, slice-of-life, sci-fi mystery tale, so they're feeding gamers with droplets of meaty content to tide them over. So those of you who felt as if Life Is Strange: Before The Storm wasn't enough, there's now The Awesome Adventures Of Captain Spirit that will be made available later this month starting June 26th for home consoles and PC. The best part about it is that the upcoming game is completely free!
The trailer introduces gamers to Chris, a wildly imaginative 10-year-old who dreams of becoming a superhero named Captain Spirit. He oftentimes spends his afternoons dressing up as a hero and imagining himself fighting back intergalactic villains, and saving distant planets from harm. In reality, Chris is living in a single-parent home following the death of his mother, while his father has a hard time coping and dealing with the stress.
The game takes place just before the events of Life Is Strange 2, whatever those events are. Dontnod has been eerily silent about what the sequel will be about, but one interesting thing is that the choices players make throughout The Awesome Adventures of Captain Spirit will carry over into the story of Life Is Strange 2. We don't know exactly how the decisions will affect the gameplay, but game director Michel Koch confirmed it during the PlayStation E3 show floor livestream.
Additionally, the prequel to the upcoming Life Is Strange outing is running on the all-new Unreal Engine 4. It sports physically based rendering, so lighting and shadows are displayed more realistically, along with having improved animations thanks to the Unreal Engine 4's integrated procedural animation tree blending technology, and the team is making use of the physics-based entities and properties that will be present throughout The Awesome Adventures of Captain Spirit.
The actual gameplay is themed around a Saturday afternoon in the life of Chris, as he rummages about the house, interacts with his toys, imagines himself using powers to make things happen, and explore his tree house. He has a rather sad and lonely life, but he uses his imagination to compensate for it. According to the developers, it takes place around Christmas time. Whether or not that has any significance to the story, or is just for flavor, remains to be seen.
The gameplay is around two hours in length, but it's designed to be replayable so that as you do different things and replay the episode multiple times you'll unlock new secrets each time around, which encourages players to keep playing.
You'll be able to download the episode for free by visiting the _Captain Spirit _web portal that Square Enix will set up once June 26th rolls around.
Staff Writer at CinemaBlend.
Your Daily Blend of Entertainment News
Thank you for signing up to CinemaBlend. You will receive a verification email shortly.
There was a problem. Please refresh the page and try again.