Why PlayStation Won't Allow Cross-Platform Play, According To One Developer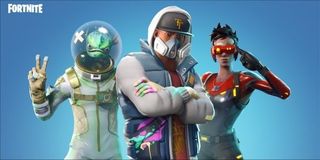 (Image credit: Epic Games)
Former president of Sony Online Entertainment and Daybreak Game Company, John Smedley, finally broke through the barrier on the hot topic of why Sony is so against cross-platform compatibility. It's been an ongoing topic that has gained a lot of attention and widespread news coverage since last year, in particular, when a lot of gamers were peeved that they couldn't play certain cross-platform compatible games with their friends on the Xbox One or Nintendo Switch. Well, the reason for denying gamers this opportunity is a lot simpler than you might have been expecting.
In response to a video posted by Greg Miller from Kinda Funny, former SOE president, John Smedley, tweeted out to gamers to "keep the pressure up" on Sony as a way to eventually force the company to allow for cross-platform compatibility. In a follow-up tweet posted on June 18th, 2018, Smedley explained...
Is that really it? Could that be all? Sony didn't want to split market share through multiplayer unilateralism with Microsoft and Nintendo?
Smedley's response was met with mixed reactions from gamers. Obviously, this isn't to say that what he mentioned isn't true to the corporate culture at Sony, but just that it still left gamers scratching their heads at the turn of events. This is mainly because it was just a generation ago that Sony was the one who seemed to be open and willing to support cross-platform play when the PS3 was struggling to gain market dominance and was losing out on market share in key territories to both Nintendo's Wii and Microsoft's Xbox 360.
For this generation, however, Nintendo and Microsoft have been more than willing to court cross-play between the home consoles and PC, as well as between the home consoles themselves. We've seen a number of games release that allow players from different systems to play with one another.
Sony has also allowed for PC gamers and PS3 and PS4 gamers to play with one another across various titles, such as DC Universe Online or Final Fantasy XIV. However, very few games afford for cross-play compatibility and the ones that do are limited on Sony's systems to PC and PS4, such as Fortnite.
Well, now that Fortnite affords for cross-play between home consoles and PC and between Nintendo Switch and Xbox One gamers, a lot of people are asking Sony why the company is blocking cross-play between PS4 and other home consoles? Sony, in the past, cited security concerns as the reason for prohibiting cross-platform compatibility, even though it was the PlayStation Network that was hacked many years ago with a lot of sensitive personal data accessed by hackers. Since then, Sony hasn't really been vocal about cross-play, but did recently tell media outlets that it was listening to fan feedback.
If money really is the reason, as Smedley points out, then it's unlikely that Sony will walk back its current direction of keeping cross-platform support with the rival consoles off the PS4.
Staff Writer at CinemaBlend.
Your Daily Blend of Entertainment News
Thank you for signing up to CinemaBlend. You will receive a verification email shortly.
There was a problem. Please refresh the page and try again.