Item Trading In Dota 2 And CS: GO Has Been Suspended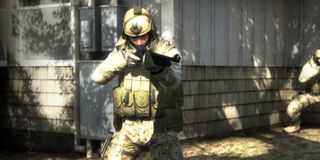 (Image credit: Valve)
The topic of loot boxes has been hot and heavy in most gaming and some political circles since EA and DICE tried to pull a fast one last November with Star Wars: Battlefront II. The inclusion of what politicians deemed predatory loot boxes in a game like Star Wars was what led to a complete breakdown of the loot box discussion, which eventually saw gambling commissions stepping in to issue their own mandates on what would be allowed in the realm of gaming regarding loot boxes. Well, after the Netherlands made their stake in the debate by stating that loot boxes were illegal, Valve was forced to abandon the item trading in games like Dota 2 and Counter-Strike: Global Offensive for Dutch gamers.
Polygon is reporting that Valve has systematically disabled item trading in Counter-Strike: Global Offensive and Dota 2 for Dutch gamers, which has restricted access to the loot box trading system, in order to comply with the new enforcement of Dutch law regarding gambling in the Netherlands.
This is being done to comply with the Netherlands Gaming Authority, which claimed that selling loot boxes and allowing for transferable value of those boxes without having a betting license was illegal. Essentially, after doing a study on games such as Counter-Strike, Overwatch, FIFA and Dota 2, the Gaming Authority found that the function and monetary trading values for loot boxes was identical to standard casino gambling, specifically slot machines (when paying money into the random loot box rolls for specific items) and roulette (when betting for items and hoping to gain the rolls to unlock or access the item after paying into the loot box system).
The Entertainment Software Association and other video game regulatory ratings bodies have vehemently denied that loot boxes are the equivalent of gambling. Some politicians attempted to get legislation underway in order to receive support in labeling loot boxes as gambling, but lobbyists for the ESA shot down the proposals.
Many gamers and parents haven't taken kindly to the loot boxes due to the fact that they're a far more aggressive monetary tactic than the current cash shop microtransactions present in mobile games and other premium-priced games.
The steps taken by the Netherlands Gaming Authority sets a precedent that any game being sold in the region for Dutch gamers cannot include predatory loot boxes.
Originally publishers such as Valve, Electronic Arts and Blizzard Entertainment (to name a few) were given until June 20, 2018 to remove the loot boxes from games like Overwatch and FIFA. Otherwise, the Dutch Gaming Authority would penalize and fine the studios by a fixed amount, or by the variable 10% of the company's worldwide turnover.
So far, only Valve responded to the request by removing access to the item trading in Dota 2 and Counter-Strike: Global Offensive for Dutch gamers.
EA has been under scrutiny for some time due to the gray markets surrounding the FIFA games, but nothing has come of it so far. I suppose we'll find out if the authorities will fine companies like Electronic Arts or Activision-Blizzard for not complying to the laws, or if the companies will make measures to restrict access to the loot box systems in their games for Dutch players.
Your Daily Blend of Entertainment News
Staff Writer at CinemaBlend.
Your Daily Blend of Entertainment News
Thank you for signing up to CinemaBlend. You will receive a verification email shortly.
There was a problem. Please refresh the page and try again.