The Walking Dead: Our World Is Pokemon Go With Zombies And It's Coming In July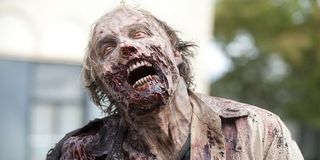 Have you ever been playing Pokemon Go and found yourself thinking, "this is nice and all, but instead of catching pocket-sized monsters, I wish I was shooting a bunch of zombies in the face." Well, you're in luck! Based on the hit AMC show, The Walking Dead: Our World is an augmented reality game that lets you survive the zombie apocalypse without having to get off of the couch.
AMC has partnered with Next Games to bring The Walking Dead: Our World to Apple and Android devices this summer. The game will launch on the App Store and Google Play on July 12, a free-to-play experience that lets you join the cast of the show and battle hordes of shambling monsters.
The game's promotional material encourages players to fight zombies on the streets, in the park or even from the comfort of your own home in an augmented reality game that seems to have a bit in common with Pokemon Go.
Similar to Niantic's hit mobile game, players will see their avatar in the game world strutting around a real-world map. Walkers will pop up on the map from time to time, at which point you enter a first-person shooter mode in order to wipe them out. The trailer shows off the game's augmented reality, with the player blasting walkers that look like they're appearing in the real world. We assume that folks who have trouble with augmented reality will still be able to battle zombies, similar to the alternate methods of catching Pokemon in Go.
Thankfully, you don't have to fight the zombies on your own, as cast members from the show can be recruited to help out in a pinch. We assume they'll work something like a super move, allowing you to wipe out a whole bunch of the undead in one go.
What's extra cool about Our World is that it introduces a mission system that Niantic would actually be wise to borrow from in their own game. On the map, you'll also spot caches with gear to collect, survivors to save and missions to tackle.
And, while it took Pokemon Go two full years to implement friend features, it looks like Our World will include similar functionality right out of the gate. You'll be able to chat with your friends and even team up to take on weekly challenges. Collaboration is apparently also a decent way to earn bigger in-game rewards.
It's impossible to know how well all of this will actually be implemented within the game, but it certainly sounds interesting. More importantly, while the game is clearly inspired by Pokemon Go, it also looks to be forging its own path in the altered reality market. If Next Games has built something solid, we could be looking at the next mobile hit.
Your Daily Blend of Entertainment News
Staff Writer for CinemaBlend.