The Witcher Tabletop RPG Is Almost Here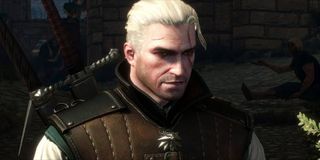 (Image credit: CD Projekt Red)
Tabletop gaming may not be in the news all the time, but it's one of the biggest sectors of gaming. In fact, it rakes in a ton of cash on Kickstarter year in and year out, and it has resulted in some new franchises popping up in the tabletop sector as well as some familiar franchises making their debut. Speaking of a familiar franchise debuting in the tabletop arena, there's The Witcher Tabletop RPG series based on CD Projekt Red's game. It will be making the leap from the world of interactive entertainment to the world of pen and paper soon.
Tabletop and board game maker, R. Talsorian, made an announcement on the official website that The Witcher will be making an appearance at this year's GenCon at the exhibitor hall at booth #1752. A number of games will be on display, including The Witcher Tabletop RPG, which will be part of a Q&A panel session involving Cody and Lisa Pondsmith. The tabletop game will be available at some point in the near future.
The website notes that the game is being sent to the printers after playtesting, editing, and layout designs were finalized. Digital versions of the board game are expected to be made available either during or slightly after GenCon wraps up. The retail versions will likely be available for tabletop gamers shortly after that. However, a solid release date hasn't been set for The Witcher Tabletop RPG just yet.
The tabletop RPG was originally announced way back in 2015 as part of a collaboration between R. Talsorian Games and CD Projekt Red. The game is based on the rulesets of Mike Pondsmith's original Cyberpunk 2020, which came out decades ago. You'll be able to interact with a number of characters from The Witcher universe, as well as create your very own character for the adventure.
The rule book will also be setup for dungeon masters to create their very own adventures for multiple players. Back in 2015, it was mentioned that the general setup would be flexible enough to create all-new adventures with the basic materials provided in the kit.
Now where things get kind of hairy is that original The Witcher Tabletop RPG was supposed to launch during the middle of 2016. However, something happened and the tabletop game was somehow delayed by more than two years.
The delay could have been due to CD Projekt Red still wrapping up content for The Witcher 3 back in 2016 with a number of DLC releases, and both companies wanted to avoid Witcher overload. Then again, it could be that they wanted to delay the tabletop RPG so it didn't interrupt the release of Gwent, the free-to-play card game.
Sometimes companies prefer to space out the releases of new content in order to avoid having multiple projects stacked up on top of each other in a short amount of time. Either way, you'll be able to see more of The Witcher Tabletop RPG at this year's GenCon between August 2nd and August 5th next month.
Staff Writer at CinemaBlend.
Your Daily Blend of Entertainment News
Thank you for signing up to CinemaBlend. You will receive a verification email shortly.
There was a problem. Please refresh the page and try again.