The First Cyberpunk 2077 Trailer Looks Like Everything You've Been Waiting For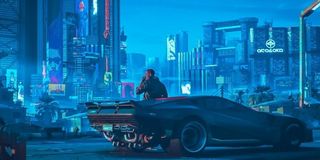 Cyberpunk 2077 has been a long in development title that fans Witcher developer CD Projekt Red have been waiting for. The title was announced years ago, but we've been waiting to see it for a long time. Well, we finally got to see what the game might be like with a brand new trailer showcasing some cinematic content of Cyberpunk 2077, and it's awesome!
The new trailer made its debut during the Microsoft E3 press conference (opens in new tab) for the Xbox.
The trailer starts with a voiceover of a young man talking about corruption, transhumanism, crime, and cybernetics. The main character of the trailer has a lot of influences from cyberpunk fanfare like Akira, wearing a cool jacket with the words "Samurai" on the back with a glowing logo.
There's mostly just cinematics, but we get a really good look at what CD Projekt has in store for gamers with the world of Cyberpunk 2077.
We see a living, breathing world where people on the streets struggle to survive, those in the upper echelons of the city control what everyone sees, plays and hears, and we see how advertisements, commercialization and futuristic ads reach the people of the city.
The cinematic trailer gives gamers an impression about what they can expect from the technology featured in Cyberpunk 2077, including some of the VR tech that kids play with, and some of the high-end flying vehicles that the rich and wealthy ride around in, which contrasts the wheel-based vehicles the poor citizens are stuck riding around in.
We get to see some of the seedy motels and gas stations where crime runs rampant under the neon-lit billboards.
We see some really interesting scenarios later in the trailer, including a taxi cab full of androids armed to the teeth with guns, a boxer fighting against a training robot, a young woman whose entire face has been reconstructed with robotics while she does her makeup in a monitor.
CD Projekt revealed that the game will allow players to create and develop their very own character in the world of Cyberpunk 2077. So unlike The Witcher series where you're playing as Geralt of Rivia, you'll be creating your very own adventurer and crafting their own story.
The game will also feature tons of free post-launch DLC, equivalent to what CD Projekt Red did with The Witcher 3. There will also be a DRM-free version of Cyberpunk 2077 on PC when it does launch between 2019 and 2020. Hopefully, we'll get some actual gameplay footage of the action-RPG soon.
Your Daily Blend of Entertainment News
Staff Writer at CinemaBlend.
Your Daily Blend of Entertainment News
Thank you for signing up to CinemaBlend. You will receive a verification email shortly.
There was a problem. Please refresh the page and try again.