How Video Games Are About To Become More Mature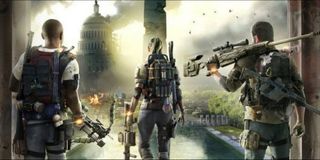 (Image credit: Ubisoft)
If you feel like video games aren't mature enough, aren't pushing enough boundaries, or aren't exploring areas that might appeal solely to adults, things could be changing in the near future as more companies begin to explore more mature territory. In fact, there are some game companies who are interested in how gamers interact with the worlds and characters beyond just shooting things, and soon we'll see how some of the upcoming titles will be designed to be more mature and adult-oriented in the content depicted within the gameplay.
According to a report from the Daily Star, Ubisoft is one of the publishers looking to explore more mature themes in upcoming games like Assassin's Creed Odyssey and The Division 2, especially when it comes to romance and personal relationships depicted in the games both for the player character and for non-player characters. Ubisoft's executive VP of creative at the Canadian studio, Lionel Raynaud, explained...
One of the examples that Reynauld used is the NPC teammates that players may encounter in a game like The Division 2, the upcoming third-person shooter sequel to the 2016 Snowdrop-powered MMOTPS. In the example it was discussed that some of the NPCs may actually have lives outside of the missions they accompany you on, such as having a family or people they care about waiting for them back at the base. It's not just a matter of keeping them alive for extra firepower during your missions, it's also about keeping them alive so that they can make it back in one piece and embrace their loved ones again.
Typically games have focused mostly on the player-character being the lead with a family, friends, and a loved one to return to (or a loved one to avenge when things go sour). Some games have attempted to explore the dynamics of relationships, such as many of BioWare games such as the sci-fi RPG series Mass Effect or the medieval-fantasy franchise Dragon Age. Most of the relationships are treated as conquests, though, and play very little roles in any of the overarching narratives presented throughout the single-player campaign mode.
According to Reynauld, the idea is to give these secondary characters more... character. Bringing these characters to life will help players better identify with them and hopefully mature the story in a way that will offer gamers a unique gameplay experience outside of what's typically made available.
The article doesn't say how much of this kind of maturity we'll see in games like Assassin's Creed: Odyssey, which is being aimed more towards a player-driven role-playing experience as opposed to the stealth-assassin gameplay featured in previous games, but gamers will find out when it launches this October for PC, PS4 and Xbox One.
Staff Writer at CinemaBlend.
Your Daily Blend of Entertainment News
Thank you for signing up to CinemaBlend. You will receive a verification email shortly.
There was a problem. Please refresh the page and try again.