Steam Accidentally Reveals Detailed Player Counts Before Plugging The Leak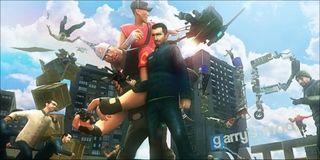 (Image credit: Facepunch Studios)
Sales data and player engagement are prized numbers by almost every major developer, publisher and distributor out there. If you know how much people are playing and how much they're buying -- especially when it comes to a competitor's product -- you can very easily see where to make some adjustments here or there or what's popular and what's not. For Steam, outside of Steam Spy and the Steam Charts, there is no way to know what people buy or how engaged they are with the product... until now. A recent leak in Steam's data revealed the detailed player counts before Valve stepped in and plugged the leak.
Ars Technica is reporting that the API for Steam allowed observers to extrapolate and generate data sets out of the player count totals for thousands of games located on Steam. The article notes that the leak was quickly plugged, but Ars Technica was able to put together some graphs based on the aggregated data samples and give the general public a look into who owns what and who is playing what.
The data was collected and put on display in a CSV file linked in the Ars Technica article, where we get an idea of what some of the top played games are along with the estimated sales. Ars Technica worked with Steam Spy's Sergey Galyonkin in order to construct the data set, and all of it represents the trends and player counts as of July 1st, 2018.
At the top of the chart is Valve's own Team Fortress 2, which has an estimated unique player count of over 50 million. Just below that is Counter-Strike: Global Offensive at 46 million, and PlayerUnknown's Battlegrounds at 36 million.
While various free-to-play games make up a large portion of the top played games on the list, there are also a number of premium games on the list as well, including Left 4 Dead 2 with 23 million players, Payday 2 with 18 million, and Garry's Mod with 18 million as well. Just below them are Warframe at 16 million and Counter-Strike: Source at 15 million.
The single-player games are scattered there and about, but The Elder Scrolls V: Skyrim represents the offline single-player experience strongly, with 13 million players. Bethesda's masterpiece is followed by other goal-driven games such as Terraria, Portal 2, Sid Meier's Civilization V and Rockstar Games' Grand Theft Auto V. Just below that is Borderlands 2 from Gearbox Software before heading back into the multiplayer-only arena. Further down the list we see that there's a massive mixture of games from all manner of genres, styles, and scopes that have a varying degree of owners, ranging from 1 million up to 7 million.
The numbers were achieved by using the Steam Achievements, and using a bit of math to reverse engineer the total player numbers to achieve a total player count for the games. The article notes that this is a more accurate method than the one provided by Steam Spy, but the caveat is that it only applies to games with Steam Achievements that people have played at least once, which means that this method was only applicable to 13,000 out of the 23,000 games currently available on the Steam storefront.
There are a few other caveats mentioned that also knocked the numbers off by a factor of two, but, overall, the method provided some measure of insight into the sales data, something that's becoming increasingly difficult to procure through public means. Valve, however, has said that it will be working on its very own version of Steam Spy, but whether or not it will be available to the public or freely accessible remains to be seen.
Looking at the Steam data, while it's easy to point out that the top of the crop are mostly multiplayer focused, the rest of some of the top played games on the list vary wildly. In fact, the only consistency in the list is that there's an inconsistency in what gamers play.
Your Daily Blend of Entertainment News
Staff Writer at CinemaBlend.