Fortnite Has Made So Much Money For Epic Games, They're Giving It To Other Developers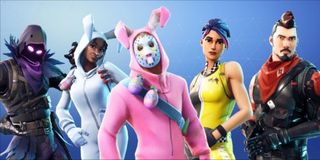 (Image credit: Epic Games)
Most times when we hear about a game making billions of dollars, it's usually from a press release or a quarterly financial report indicating that the company is proud of its milestones. Where the money goes or how it's used is rarely ever discussed, other than that more sequels are put into the pipeline, but in this rare case we learn that Epic isn't just hoarding the money all for itself. The Fortnite creator is actually racking up tons of revenue from the game and instead of just sitting on it like Scrooge McDuck, the company is giving away some of its earnings to help out other up-and-coming developers.
This isn't just Epic throwing out money just to throw out money, it's actually part of a new systematic overhaul on how developers and asset creators earn revenue through the Unreal Engine marketplace. According to VentureBeat, Epic has reduced the distribution fee from 30% to only 12% on all assets sold through the marketplace, and this has resulted in Epic paying out a retroactive reimbursement to asset developers since the marketplace went live. This means a lot of free money in the pockets of developers. Epic's head honcho, Tim Sweeney, explained the reason behind this move, saying...
This is a fantastic bit of news, especially for everyone who has used Epic's marketplace over the years to build Unreal Engine entities, assets, animations and characters. And you can almost count on a couple of hands the amount of games not built on the Unreal Engine in the mainstream gaming space.
According to Sweeney, the idea is that, due to the overwhelming success of Fortnite, Epic wanted to pass on those savings to other developers creating assets, so there will be a one time payout for the percentage adjustment for all the devs who sold content from the marketplace over the last four years.
That's a lot of money, no doubt, especially for developers who sold a lot of stock and custom assets from the Unreal Engine marketplace.
Part of the reason for this goodwill move from Epic is that self-sustainability is no longer an issue for the company. Fortnite is making so much money each and every month that Epic Games will be set for years.
The company can now focus solely on improving the Unreal Engine, or even diving into making more games without having to worry about budget or finances.
VentureBeat notes that the percentage reduction on marketplace assets for the Unreal Engine could put pressure on Unity Technologies to take steps to make the Unity 3D engine and asset store seem more lucrative to designers in coming updates.
For now, I imagine many developers are just happy for the payout and will likely look forward to taking advantage of the smaller distribution fee for selling assets on the asset store.
Your Daily Blend of Entertainment News
Staff Writer at CinemaBlend.