Fortnite: Everything In The Season 5 Battle Pass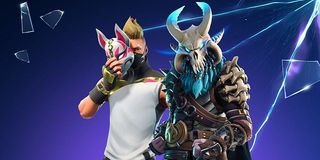 Fortnite's fifth season kicked off this morning, bringing a metric ton of changes and additions to the leading battle royale game. Epic has revealed what's included in this season's Battle Pass, too, all 100 tiers of which can now be perused. Combine all of that with what nearly amounts to a brand new map, and we figure players will have plenty to keep them busy through the next two-and-a-half months.
Players have from now until Sept. 25 to work their way through as many tiers of the new Battle Pass roster as possible, unlocking all sorts of cosmetic items along the way. As in previous seasons, these unlocks include players skins and sprays, as well as back bling, new pickaxes and gliders, account boosts, in-game currency and more.
The official name of the latest Fortnite season is "Worlds Collide," which is appropriate considering recent events in the game and what has been done to the map. We'll dive into that in a moment but, for now, let's talk about the new Battle Pass, which you can take a gander at in full via the season announcement page.
In case you're new to Fortnite, the game is free-to-play, meaning you can jump in right now and start playing without ever spending a single dime. While doing so, you can work your way through a series of reward tiers that will grant you in-game items. Again, access to those tiers comes at no cost. If you want to purchase the Battle Pass, though, you'll gain access to a second tier of goodies to unlock while you play. It should also be noted that, if you buy a Battle Pass at any point in the season, you'll unlock everything in the second tier that you would have unlocked were you a Battle Pass member from the beginning. Said pass will set you back 950 V-Bucks, or $10.
The moment you buy this season's pass you'll gain access to two skins including a dude who looks like a cyberpunk ninja and a woman who looks like a Viking version of Alloy from Horizon: Zero Dawn. You'll also get an experience boost for yourself and one that helps out anyone in your squad. Moving up the list, the first group of tiers includes everything from another experience boost to a couple of sprays, 100 of your V-Bucks back in your pocket, and a pretty sweet glider.
There are 13 pages of tiers you can flip through covering all 100 tiers of content available in this season's Battle Pass. Tier 11 will get you a basketball, one of Fortnite's new interactive items, while the next skin isn't until level 23. More highlights include a glider that looks like a Viking ship at level 39, a Viking shield Back Bling at 55 and, all the way up at 100, a badass war chief.
As for the theme, you may recall that a rocket recently ripped a hole in spacetime over the Battle Royale map. As a result, several areas of the map have now been completely altered. While some changes are as simple as a farm being replaced by a golf course, others include a Viking settlement at the top of a waterfall, a marsh being turned into a cavernous desert and loads of other changes you'll want to dive in and check out for yourself.
Staff Writer for CinemaBlend.
Your Daily Blend of Entertainment News
Thank you for signing up to CinemaBlend. You will receive a verification email shortly.
There was a problem. Please refresh the page and try again.