Fortnite's Solo Showdown Is Back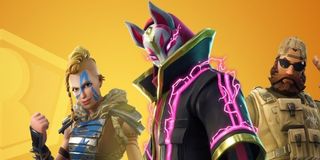 (Image credit: Epic Games)
Epic Games has been making mad bank on Fortnite since the game's Battle Royale but Epic hasn't been resting on the laurels and relying solely on the popularity of the game to coast through. Epic is actually bringing back a popular mode that was previously only implemented as a temporary feature. In order to keep the gravy train rolling and interest high in the third-person Battle Royale shooting game, Epic announced that the Solo Shodown mode is making a return to form for Fortnite players, opening up an opportunity for those who missed the mode the first time around to check it out again.
The news went live over on the official Epic Games website, where it was announced that the Solo Showdown Limited Time Mode, also known as the Solo Showdown LTM, will make a return to _Fortnite. _
The mode doesn't change any of the core gameplay mechanics of the current Solo mode, but it will see players placed against other self-selected competitors in order to find out who is truly the best of the best.
The limited time mode will also offer special awards for those who can place within the top 50th places. You'll earn 50,000 V-Bucks if you can manage to nab first place, 25,000 V-Bucks if you can manage between 2nd and 4th place. And you'll manage 13,500 V-Bucks if you can nab 5th through 50th place. Anyone who places between 51st and 100th place will receive a consolation price of 7,500 V-Bucks.
The ranks will be determined by players who participate in their first 25 matches. So if you're unsure of your abilities or don't want to dive too far into the thick of it, you might want to practice before booting up the Solo Showdown LTM.
The limited time mode is part of the summer skirmish event going on in Fortnite, where Epic Games hves been rolling out special events for players and handing out all sorts of special rewards for competitors.
Given that the game is making millions of dollars a day, Epic isn't shy about handing back, including with massive prizes being doled out for eSports competitions.
The eligibility of the Solo Showdown LTM is open for those who play at least 25 matches in LTM on the same server between July 27th and July 30th. You don't have to purchase anything to enter. You do have to be 16-years of age or older, and you do have to have a registered account that was active on or before July 18th.
If you play on PS4, Xbox One, Nintendo Switch, mobile devices or PC, you can enter for a chance to earn the V-Buck prizes. Prizes will also be handed out based server regions, including Fortnite servers for North America, for Europe, for Asia, for the Oceania region, and for Brazil.
Again, you'll want to work fast because the Solo Showdown LTM is exactly what it says: a limited time mode. Much like the Playground LTM that was only available for a short period of time, you'll only have until July 30th to rack up some points, win some matches, and hopefully come away with some V-Bucks.
Your Daily Blend of Entertainment News
Staff Writer at CinemaBlend.