Twitch Prime Members Can Get An Exclusive PUBG Crate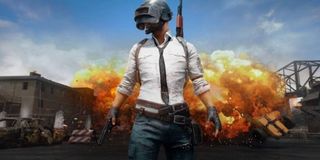 If you're a Twitch Prime subscriber looking to spruce up your look in PlayerUnknown's Battlegrounds, you can now pick up a special crate full of goodies perfect for a jungle expedition. A handful of cosmetic items are being made available for a limited time, and all you have to do to claim yours is link a couple of accounts and press a couple of buttons.
Over on the Twitch blog, the team has announced an exclusive Jungle Crate has been made available to PUBG players who also happen to be members of Twitch Prime. As a reminder, if you are a member of Amazon Prime, you're already a member of Twitch Prime. All you have to do is link those two accounts and, boom, you've got access to a rotating selection of free items for various games, as well as free monthly game downloads.
As for the PUBG gear, so long as your Twitch Prime account is linked to your game account (yeah, there's a lot of linking going on), you can simply click on the Prime Loot logo on your account page, hit the "Learn More" option for the PUBG Jungle Crate and then add it to your account. The crate includes six jungle outfit items and a pair of weapon skins. The promotion went live on Aug. 17, and we expect it to be available for about a month, but it's always better to act sooner rather than later on these kinds of things.
As for what's included, you'll be getting an explorer hat, tiger print bandana, explorer coat, leopard print vest, explorer knickers, leather boots, a Croc Bite weapon skin and a Bengal Blade weapon skin. The Croc Bite is for the M16A4 while the Bengal Blade is for the SCAR-L.
The outfits themselves are pretty snazzy, making the male or female avatar look like they've been pulled straight out of one of the expedition parties from a classic adventure film. What really sets them apart, though, is the Twitch-appropriate purple theme, with the helmet even sporting the steaming service's logo.
Again, that's just one of the current bits of loot being offered through Twitch Prime. All sorts of games provide special skins or item crates while some full games are also given away on a regular basis. Right now, you can grab a pair of Wrecking Ball loot boxes in Overwatch, as well as loot drops in games like Warframe, Call of Duty World War II, RuneScape and the Eternal card game. You can also pick up some free games such as the Wizardry Bundle, Jotun: Valhalla Edition and Steam World Dig.
Again, you have to link your Twitch account to all of the various games that offer free loot and gear, but that's a pretty quick process and totally worth it if you happen to be a Twitch Prime member.
Staff Writer for CinemaBlend.
Your Daily Blend of Entertainment News
Thank you for signing up to CinemaBlend. You will receive a verification email shortly.
There was a problem. Please refresh the page and try again.