What Fortnite Has Planned For PAX West 2018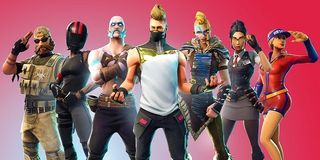 PAX West is just around the corner and, being the biggest game in the world right now, you better believe Fortnite will have a major presence. From mini-golf to the conclusion of the Summer Skirmish Tournament, the team at Epic plans on keeping everyone busy for three straight days.
Fortnite will be out in full force at PAX West, with Epic recently announcing plans to attend the event from next Friday, Aug. 31, through Monday, Sept. 3. They've promised "plenty of fun activities" for all attendees, whether you're looking to compete in a major tournament or simply have some fun visiting the game's booth. For those of you planning on attending the upcoming PAX convention, you'll find all things Fortnite at 8th and Pine, as well as on the first floor "Yakima" conference center at the Washington State Convention Center.
The biggest draw for Fortnite at PAX West will be the final series of bouts for the Summer Skirmish tournament. The prize pool is $1.5 million, so even scrubs will likely want to sign up and try their luck against a field of hundreds of competitors. What do you have you got to lose, right? Also, you've got a solid week before the tournament, in case you want to get in some last-minute special training.
The tournament will be open to all PAX West attendees with registration beginning at 8 a.m. each day. To join in on the fun, head to Lot 73 at 8th and Pine. All three days of the tournament will begin with three rounds of qualifiers, with final qualifiers to take place each night. Those finals will be broadcast across a range of streaming stations from 6 to 9 p.m. each night. You can tune in to watch on Twitch, YouTube, Mixer, Twitter, Facebook or, if you're at the event, you can just attend.
The best 33 players from each day's event will come together on Monday, Sept. 3, to compete in the finals. The finals are set to run from 11 a.m. to 3 p.m. local time, so be sure to double check those details with your own time zone before tuning in. Epic promises additional information about the format, as well as prizes, will be made available soon.
If you happen to be in attendance at PAX next weekend, you'll probably want to carve out some time in your schedule to drop by the Fortnite booth and play a nine-hole round of mini-golf inspired by the in-game locale, Lazy Links. Participants will have an opportunity to claim a set of four Pinny Arcade Fortnite pins, which look like a suspicious bush, a lama piñata, a "Victory Royale" logo and a "Fortnite" logo. And since their booth was so successful at E3 a couple months ago, we wouldn't be surprised to learn Epic plans to sell a bunch of fun Fortnite T-shirts and swag on site, too.
Staff Writer for CinemaBlend.
Your Daily Blend of Entertainment News
Thank you for signing up to CinemaBlend. You will receive a verification email shortly.
There was a problem. Please refresh the page and try again.