Devil May Cry 5 Has A Release Date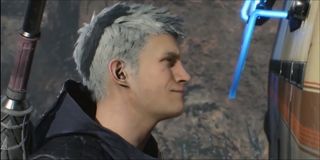 (Image credit: Capcom)
At this year's E3 Microsoft did something bold... something a lot of people simply did not see coming at all. Microsoft invited Capcom onto the stage to announce Devil May Cry 5. The game is still going to be a multiplatform title, but Microsoft wanted gamers to know that the company is still supporting Japanese development. When the unveiling of Devil May Cry 5 took place at E3, a release date was not confirmed and gamers did not know when it would be released. During this year's GamesCom, however, Capcom managed to answer that most pressing question.
With GamesCom taking place in Cologne, Germany, Capcom announced during the event that Devil May Cry 5 would be releasing on March 8th, 2019 [via IGN].
The game is a throwback to the first several Devil May Cry games in order to capture the quirky, dark, over-the-top, Gothic-action that Capcom accomplished with the series back during the height of the PS2 era. The developers are also making sure that they don't make the mistakes that hampered Ninja Theory's release of DmC: Devil May Cry from back in 2013.
For instance, in the 2013 release the game wasn't running at full 60fps, but instead used 30fps with motion-blurring to imitate 60 frames per second, similar to what EA Sports does with the EA Sports UFC series of games, which also run at 30fps with motion blur.
This was actually one of the biggest complaints about DmC: Devil May Cry, and originally Ninja Theory played it off as if gamers wouldn't notice, but the hardcore fans definitely did notice and it was definitely one of the issues that was reflected in the sales.
This also ties into Devil May Cry 5's controls and intuitiveness for the combat. Thanks to the 60fps standard, the game utilizes input cancel without cutting off the animations. A mixture of frame-blending and input responsiveness will ensure that players will be able to seamlessly transition between combos without missing a beat.
It definitely seems to point to Devil May Cry 5 being a real gamer's game. There's also going to be a focus on photorealistic graphics thanks to Capcom fully embracing photogrammetry, which is technology that relies on fully 3D scanned actors and objects to create realistic looking characters and worlds. This was a technique also used in Resident Evil 7 and it's also going to be used in the upcoming Resident Evil 2 remake, due to the fact that it's a lot cheaper to scan in objects and characters than it is to manually model and design objects and characters using a large team of modelers and art designers.
Not having to focus as much on building the art for a lot of mundane objects means that artists can focus more on crazy bosses and cool special effects, which is featured abundantly throughout the game.
Devil May Cry 5 will feature a campaign mode themed around both Nero and Dante, and sports all new locations, weapons, and bosses. You'll be able to play the game starting next year on March 8th, 2019.
Staff Writer at CinemaBlend.
Your Daily Blend of Entertainment News
Thank you for signing up to CinemaBlend. You will receive a verification email shortly.
There was a problem. Please refresh the page and try again.