How Fortnite Is Encouraging Players To Secure Their Accounts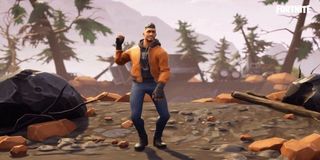 (Image credit: Epic Games)
When it comes to online gaming, there's no such thing as being too secure with your personal information and security details. The common rule is to always use a different password with every game you play or every account you make, and to always take extra measures to protect your account details with as many different steps of authentication as possible. Not everyone heeds the common advice for account protection, and Epic Games decided that instead of letting this ill practice continue on, the company wanted to give gamers an incentive for playing a game like Fortnite and taking the extra step to secure their accounts, and they're doing so in an inventive way.
Over on the Epic Games website, it was revealed that users who safeguard their accounts with two step authentication will receive a free emote. Yes, you will receive a free emote for securing your account.
If you enable two-factor authentication, you'll be rewarded with the Boogiedown Emote for Fortnite's Battle Royale mode. The Boogiedown emote features the character doing an up beat dance with some jumping and some arm movements as they celebrate having a secure player account.
The two-factor authentication (or 2FA for short) means that there are two steps to take in order to secure your account, or log into your account. For instance, when you go to log in you'll not only need your e-mail address or username, but you'll also have to provide a security code in order to log into the game. The security code oftentimes is sent to the e-mail address that you registered your account under, and from there you usually either have to click a link or input a numerical code only you can see.
This is similar to what Blizzard Entertainment began doing with its high-profile games, such as World of Warcraft or Diablo III. Blizzard also produced a specific authenticator in order to help expedite the process.
Epic's two-factor authentication for Fortnite is very similar, but also tries hard not to be invasive. For instance, once you sign into your account you can enable the two-factor from the user settings. Every time you log into your account from a new device, it will ask you for a passcode using the two-factor method that you've designated for your account. If you continue to play the game from different devices, you'll need to re-authenticate your account. If 30 days have passed since you've logged in then it will also ask you to input the passcode again.
You'll have a number of authenticator options to use for the mobile authenticator app, including the Google Authenticator, the LastPass Authenticator, the Microsoft Authenticator, and Authy.
The extra incentive to get a free emote just for enabling two-factor authentication in Fortnite will hopefully compel the majority of their users to secure their accounts and lower the risks of potential hack attacks or account breaches. Given some of the more devastating network breaches in the past, it's a nice step from Epic to focus on user security.
Staff Writer at CinemaBlend.
Your Daily Blend of Entertainment News
Thank you for signing up to CinemaBlend. You will receive a verification email shortly.
There was a problem. Please refresh the page and try again.