Lord Of The Rings Is Getting Another Online Game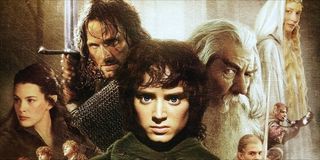 (Image credit: Warner Bros)
One of the most popular brands in all of pop culture is J.R.R. Tolkien's The Lord of the Rings series. Why not? It has magical jewelry, giant specters in dress-like robes that fly around on dragons, and beautiful elven folk with pointy ears and shiny garb. It's like taking the best of fantasy fiction and combining it all together. It's no surprise that The Lord of the Rings has managed to become a staple property in the world of interactive entertainment as well, thanks to a variety of publishers. However, one thing that has been in short supply when it comes to games based on the property are massive multiplayer titles. Take note that the situation regarding the dearth of Tolkien-based MMOs may soon be changing as there's apparently another Lord of the Rings online game in the works that will be free-to-play.
According to The Hollywood Reporter, the newest game to grace the long-line of titles that have been made based on Tolkien's property is going to be produced by Middle-earth Enterprises and Athlon Games.
This is going to be a new MMO-style game from Athlon that will be developed for PC and, presumably, home consoles. Athlon Games' president, Dave Miller, noted that the company has been looking to expand its properties and deliver more content to PC, PS4, and Xbox One.
The company's head honcho originally comes from Warner Bros. Interactive Entertainment and NBC Universal; the former of the two is responsible for publishing most of the recent Lord of the Rings games, including Middle-Earth: Shadow of Mordor and its 2017 follow-up Shadow of War. The publisher has also been working with the LEGO Group to produce the LEGO: Lord of the Rings games, so Miller is coming from a publishing company which really knows its way around the franchise. I imagine this means it's going to be in very good hands.
Not only that, but Athlon Games is a subsidiary of Leyou Technologies, which also owns Splash Damage and Digital Extremes, according to the Hollywood Reporter. What's the significance in this? Well, Splash Damage is the developer behind the popular online FPS title Dirty Bomb, and it was also the studio that was brought in to work on Batman: Arkham Origins under the Warner Bros. Interactive Entertainment publishing label in place of Rocksteady Studios, which was finishing up Batman: Arkham Knight. So there's a lot to draw from in terms of tech and know-how when it comes to building large-scale projects.
Additionally, for those of you who don't know, Digital Extremes is still seeing massive success with Warframe, and has been regularly updating and advancing the MMO to all new heights. So, Athlon Games should have some good experience to draw from under Leyou's stable of studios.
The upcoming title will attempt to build on the free-to-play models that companies like Digital Extremes have seemingly mastered with its third-person space-ninja MMO. The plan is to carryover those design techniques into the upcoming Lord of the Rings title.
Keep in mind that this is going to be a completely separate game from the free-to-play MMORPG The Lord of the Rings Online, which originally launched back in 2007 for PC, but is now being maintained by Dungeons & Dragons Online developer Turbine Games.
No release date has been set yet for Athlon Games' new Lord of the Rings title, but it comes shortly after Amazon acquired the rights to develop a big-budget series based on Tolkien's property.
Your Daily Blend of Entertainment News
Staff Writer at CinemaBlend.