Xenoblade Chronicles 2 Selling Really Well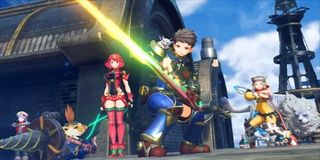 (Image credit: Monolith Soft)
The Nintendo Switch exclusive, Xenoblade Chronicles 2, kind of came out of nowhere. It launched late last year in December of 2017 to mostly positive critical acclaim and strong positive feedback from actual gamers. Nintendo and Monolith Soft made some slight changes in the way the game was presented compared to when Xenoblade Chronicles X was released several years before for the Nintendo Wii U. The focus on maintaining consistency between the regional releases, ensuring a quality-made game, and an engaging story apparently turned out to be a formula for success, because Xenoblade Chronicles 2 is selling really well.
US Gamer is reporting that even Monolith Soft's executive director, Tetsuya Takahashi, was surprised at how well Xenoblade Chronicles 2 has sold and how well its most recent DLC expansion pack, Torna: The Golden Country, has caught on with fans. Takahashi told the outlet via a phone interview,
Tetsuya Takahashi isn't wrong. The game sold fast and sold strong during its December launch in 2017, moving more than 1.31 million copies and becoming Monolith Soft's highest selling game, as reported by Gaming Bolt.
It's rare that JRPGs burn up the sales charts if they aren't named Final Fantasy or Kingdom Hearts, but for the Nintendo Switch there were a dearth of games at the time and other than Super Mario Odyssey and The Legend of Zelda: Breath of the Wild, not too many AAA games were standout amongst the fledgling library of Nintendo's nascent system. It's easy to see why many Switch owners, hungry for more gamers, decided to give Xenoblade Chronicles 2 a go when it first launched.
Of course, dipping one's toes into the water doesn't necessarily explain the game's continued success or the success of the DLC. It seems to be the complete opposite of the sales of Xenoblade Chronicles X, which launched mired in controversy over regional differences between the Japanese and Western versions of the game, and a community draped in debates over some of the content being removed.
Ultimately, Xenoblade Chronicles 2 was the result of the game staying the same between different regions, so no one was left out when it came to content. So instead of the community arguing about what they were missing out on, they were all able to share and comment on the game and share those experiences with others. In a way, the community discussion surrounding a game can either negatively or positively impact long-term sales based on word-of-mouth. And it looks like the word-of-mouth surrounding Xenoblade Chronicles 2 for the Switch has been positive enough to see the game continue to break the sales trends and even shock Monolith Soft.
Staff Writer at CinemaBlend.
Your Daily Blend of Entertainment News
Thank you for signing up to CinemaBlend. You will receive a verification email shortly.
There was a problem. Please refresh the page and try again.