Gearbox CEO Randy Pitchford Has Allegedly Lost Millions To His Personal Assistant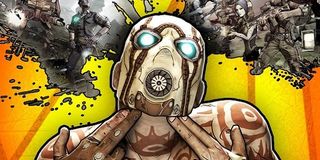 According to a recent report, Gearbox Software CEO Randy Pitchford has reportedly lost more than $3 million to an assistant who worked for Pitchford and his wife for only a few years. According to the accusations, John Wright Martin is the man in question, and he's on the hook for a heck of a lot of money allegedly stolen from a heck of a lot of people. But the legal process has ground to a halt, since the guy can't even be found.
This hectic story comes to us from Dallas News, which is reporting that John Wright Martin stands accused of stealing millions of dollars from several unfortunate parties, all to fund his lavish lifestyle of expensive clothes, furniture, trips and parties, not to mention a home worth nearly $600,000. Included in the list of reported victims are Randy and Kristy Pitchford. Randy is the head of Gearbox Software, the studio behind the successful Borderlands series, the ill-fated Battleborn and more. Kristy is the driving force behind Nerdvana Frisco, a coffee shop she owns and operates in Frisco, Texas.
Back in 2014, the Pitchfords hired John Wright Martin as a personal assistant, giving him a salary of $45,000 a year. According to charges, that was only a fraction of the money Martin allegedly got from the couple over the next several years. According to records, Martin started using the Pitchford account for personal expenses within his first year on the job. Of the items listed are everything from movie rentals to designer clothes, electronics, vacations and more.
In fact, that first year was when John Wright Martin bought the aforementioned home, worth a reported $591,000, with additional funds spent on throwing expensive parties and high-dollar nights out on the town. One event referenced in the reports was a single bar tab of $657 that rang up he pulled the movie-ready move of buying a shot of booze for everyone in the building.
According to Randy Pitchford, the couple is still discovering expenses that Martin used their account to pay for. He says that the situation has not "ruined" his family, but that their initial estimations of $700,000 in misused expenses were wrong, and it actually totals more than $3 million.
According to the initial report, Martin was contacted by the Pitchfords and he told them there was a simple account mix-up, and that he would reimburse them for any money that was lost due to the snafu. That money never came, and Martin has since gone off of the radar. And the couple isn't the only set of alleged victims, and this story is full of other individuals who experienced similar grifts and allegedly lost large sums of money to Martin. The one half-positive to come of this is that Martin reportedly gave sizable chunks of change to a couple of charities but, as the Dallas News points out, it wasn't his money to donate in the first place.
Martin only worked for the Pitchfords for a few years, and he was already out of their lives when a payroll error at their Nerdvana business arose stating their accounts were unable to cover it all. That's what led them to looking into the figures, which is when they discovered all of these insane charges that, by the looks of things, came from Martin misusing their funds.
Stay tuned for more info on this strange run of events.
Your Daily Blend of Entertainment News
Staff Writer for CinemaBlend.